The Brooklyn Donut Tour is a great way to try out doughnuts and discover Williamsburg and Greenpoint in Brooklyn. Make sure you wear good shoes and come with an empty stomach, because during the tour you will pass four donut shops and you can try a special donut at each of these donut shops. When walking to the next donut shop, you will explore part of Brooklyn and your guide will tell you all about doughnuts and the different neighbourhoods you walk through.
Book the Brooklyn Donut Tour here
Brooklyn Donut Tour
You will meet your guide at Doughnut Plant, a doughnut shop in Williamsburg, where you will taste your first doughnut of the tour. You will then walk along McCarren Park towards Greenpoint where the other donut shops are located. Along the way, the guide will tell you more about Brooklyn's neighbourhoods and their history. In this New York neighbourhood, you will find many shops, restaurants and very few tourists, which makes it different from Manhattan. In Greenpoint you will taste two special donuts and you will be offered a drink. The last stop is Peter Pan Donut & Pastry Shop, the shop also featured in Spider-Man No Way Home. During the tour you will taste the most special pastry creations, that are unlike regular doughnuts.
Eric's Tip:
Besides the donut tour in Brooklyn, there is also a donut tour in Manhattan. The
Manhattan Donut Tour
is more of a donut tour, where the Brooklyn tour is more of a special donut/cake tour. If this is your first time in New York, in my opinion, the Manhattan tour is the best option to start with.
Practical Information
After your purchase you will receive a voucher that you can either print out and use as your ticket for the tour, or show as a mobile ticket on your phone.
Duration: 2 hours
Departure Point: 198 Bedford Avenue
Departure Time: 14:00
Book the Brooklyn Donut Tour here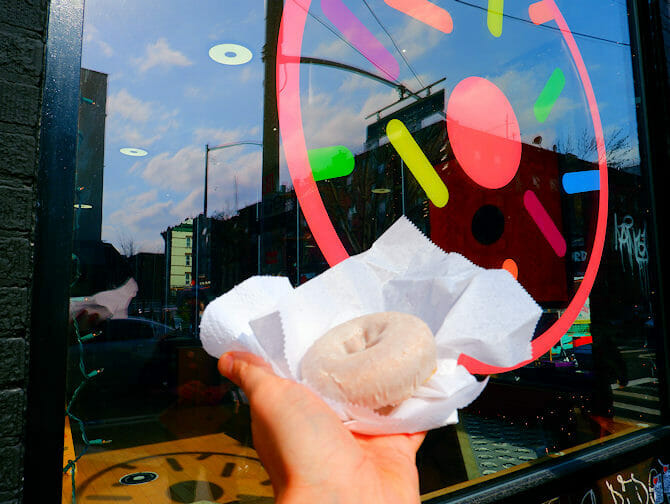 Was this article helpful? Recommend it by giving me a rating: