Things to do with unvaccinated kids in New York
Traveling to New York with unvaccinated kids is possible. Children 5 years and older do not need to be fully vaccinated for indoor dining and other indoor entertainment.
The information in this blog post is no longer applicable at this time. Vaccination certificate for everyone aged 5 years and older is only required here: -.
Vaccination requirements for children
In many countries, kids between the age of 5 and 11 have not been fully vaccinated (yet), which can make traveling to New York with children a bit challenging. Children from the age of 5 must be fully vaccinated in New York. Without getting into vaccination discussions, I want to give you my tips to have fun with your unvaccinated kids.
If you booked your trip to New York and are considering still going, this blog is for you. Keep in mind that rules can change.
Tips for activities with unvaccinated children
Brooklyn Bridge
Central Park
Times Square
Grand Central Terminal
Jane's Carousel + DUMBO
Dining in New York
When you travel to New York with children who have not (yet) been fully vaccinated, you can not eat in a restaurant. You always need to show proof of vaccination. If you consider what you can do, the whole family can still enjoy some typical American food.
Outside dining
Since the pandemic, almost every restaurant in Manhattan has the option to eat outside. In the streets, you'll find igloos and greenhouses, which are mostly heated. New Yorkers do everything to create a nice dining experience. To eat outside, you do not have to be vaccinated, so you can still have a delicious and fun dinner.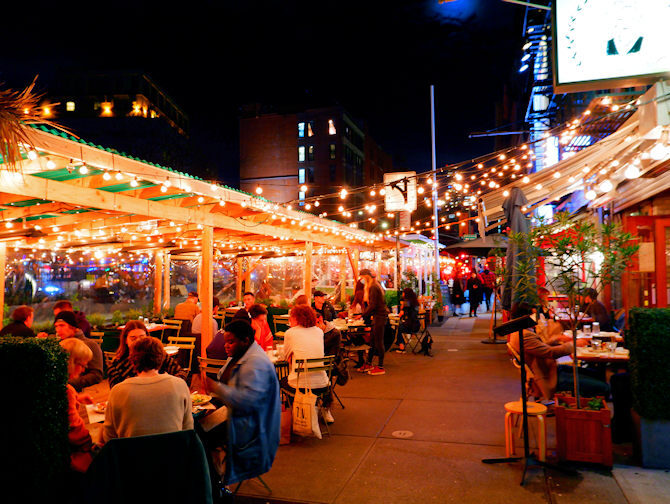 In the hotel
You can also watch a movie in bed with a large pizza box on your lap! There are plenty of delivery options that can deliver your order to your hotel. You can also get takeaway and eat in your hotel room.
Vaccinating in New York
Some parents ask if they can get their kids vaccinated in New York. I'm not the right person to ask. As a father of two young boys, I'm not against vaccination, but I'm also not a doctor. If you are considering this, please ask your doctor what to do.