Ballet tickets in New York can be purchased before you leave. It is easy and safe to book your tickets online. A performance of the New York City Ballet can be enjoyed at the David H. Koch Theatre at Lincoln Center. The New York City Ballet has performed great classics such as A Midsummer Night's Dream, Swan Lake and Romeo and Juliet.
The ballet season runs from September through June

Buy your New York City ballet tickets here
Get £4 discount when you spend £80 or more with discount code HELLOTICKETS5
Ballet Tickets in New York
Founded by George Balanchine and Lincoln Kirstein, New York City Ballet is one of the world's leading dance companies, with almost 100 sublime dancers and close to 70 members in the orchestra. They boast the largest repertoire of any ballet company in the United States, staging 60 or more ballets per season. New York City Ballet, as a tradition, performs The Nutcracker every November and December; one of the company's most complex theatrical stage performances. The dancers are known for their contemporary style and athletic form of dancing.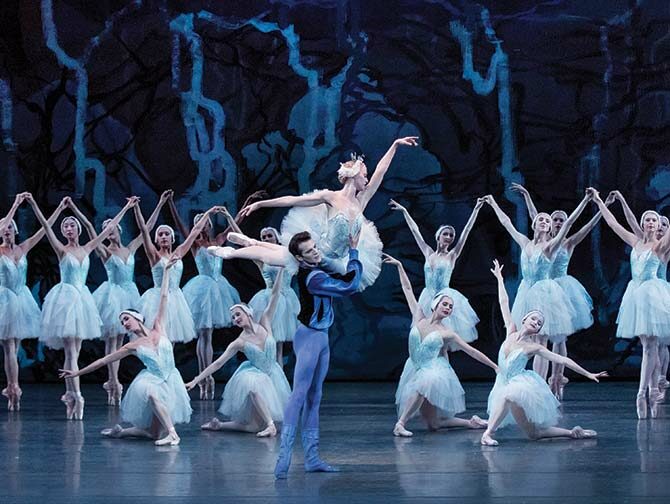 David A. Koch Theatre
The impressive theatre building in which The New York City Ballet performs was designed by Philip Johnson. The auditorium has seats on the orchestra level and five rings. The large chandelier on the gold-plated ceiling gives the place a luxurious feel. Throughout the building travertine stone is used, the same stone that was used to build St. Peter's Basilica at the Vatican in Rome. In the lobby, there are several artworks depicting aspects of the ballet world, such as mythology, the human body and numbers.
How to get to Lincoln Center
The Lincoln Center with its additional David H. Koch Theater is located in the Upper West Side, between West 62nd and 65th Streets and Columbus and Amsterdam Avenues. From Penn Station or Times Square, you can take the subway 1 Uptown to 66th Street/Lincoln Center Station. You can't miss it!
How to buy Ballet Tickets?
It is easy to buy tickets for ballet in New York in the overview below. I recommend buying ballet tickets online before your trip to New York. This will save you time and most importantly you don't have to stress about finding tickets when you are in New York.
Buying a ticket is simple:
Click on the link and select the date you want to go
Fill in your information and pay
Check your email for the confirmation
Buy your New York City ballet tickets here
Practical Information
Minimum age: Recommended age is 5 years
Duration: varies per dance performance
Location: David A. Koch Theatre, 20 Lincoln Center Plaza
Accessibility:
New York City Ballet Schedule
Was this article helpful? Recommend it by giving me a rating: