Opera Tickets in New York 2023
Opera tickets in New York can easily be purchased online before you leave. The Metropolitan Opera in Lincoln Center is a vibrant home to many talented artists. Enjoy one of the world-famous operas, like La Traviata, La Bohème or Macbeth. When you visit an opera you'll be amazed by the elegantly decorated lobby and, most noteworthy, excellent acoustics of The Metropolitan Opera House. It is, therefore, a great place for a classy night out in New York. The opera season runs from late September to the end of June.
See the opera schedule and buy your tickets here
Metropolitan Opera Schedule
The Metropolitan Opera at Lincoln Center is the largest classical music organisation in North America. It's known for hosting some of the world's greatest voices. The Metropolitan Opera presents around 26 different operas, performing 200 times each season. The Met opera schedule varies each year, ranging from lesser-known operas to classics such as Aida and The Magic Flute. There are several operas throughout the week, making the season very diverse. See below for the Metropolitan Opera Schedule and to book tickets.
Where should I sit in The Metropolitan Opera House?
If you want to have good seats, I would recommend getting the Orchestra seats. This way you are close to the stage and can see the performance in all its glory. If you get seats higher in the opera house, you'll be able to see the grandeur of the theatre. These sections are called Grand Tier and Dress Circle. Keep in mind that some seats are located high up, so if you have any fear of heights, get Orchestra tickets.
If you have a limited budget, you can purchase tickets for the Balcony or Family Circle. These seats are high up in the theatre, but can still experience the opera. Lincoln Center also offers boxes, but personally, I'm not a fan of these. You see the opera from the side and I prefer to see it from the front. Click here for the Metropolitan Opera House seating chart.
How to buy opera tickets?
It is easy to buy tickets for the opera in New York in the overview below. I recommend buying opera tickets online before your trip to New York. This will save you time and most importantly you don't have to stress about finding tickets when you are in New York.
Buying a ticket is simple:
Click on the link and select the date you want to go
Fill in your information and pay
Check your email for the confirmation
Eric's Tip: "In front of all seats you can see a small screen with translations of the lyrics. This makes it easier to follow the performances. The available languages vary per opera, though most of the time they offer English, German, Italian and Spanish."
Practical Information
Duration: varies per performance, usually between 3-4 hours
Location: Metropolitan Opera House, 30 Lincoln Center Plaza
Accessibility:
Metropolitan Opera Tickets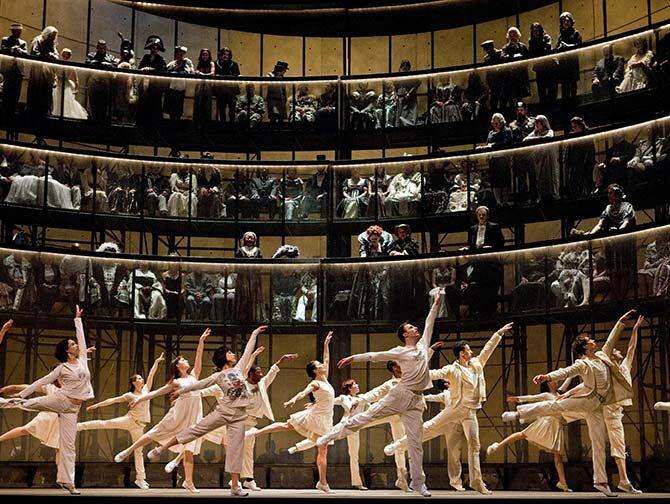 Was this article helpful? Recommend it by giving me a rating: