A New York helicopter tour is a unique, once in a lifetime experience. Not to mention the amazing views of Manhattan! Book in advance to take advantage of incredible prices, starting at £125, for a 12-minute helicopter flight (if you book in advance). Discover the famous sights of New York City by air. Along the way, you'll see the iconic Statue of Liberty, the Empire State Building, the silvery brilliance of the Chrysler Building, and the vast expanse of Central Park.
Book your New York helicopter tour here
Which New York Helicopter Tour should you pick?
Eric's Tip:
There are a number of helicopter tours to choose from. Personally, I have now taken over 25 and have found all of them to be well worth the money. The last one that I took was in March 2023, the 15-minute ride (
click here
). I know that 15 minutes doesn't seem that long but trust me, you get to see all of the 'important' places and it's a really great experience. If I had to choose, I would go for a 15 or 18-minute ride (see link below). In my opinion, it's the best value for the money. If money was no object, I'd definitely go for the 25-minute "Grand Island" Tour. Always book well in advance, which is often much cheaper than purchasing your tickets on the day itself. It is a great gift that someone special will never forget or an awesome treat for yourself.
Special Helicopter Flights
Do you want to do something extra special? Choose a helicopter flight at night. During this flight, you'll enjoy views of the city with all the beautiful evening lights as a backdrop. The evening helicopter flight is especially nice for people who have already taken a normal helicopter tour over New York and are looking for a different experience.
There are also cheap helicopter tours over New York available. These leave from a heliport outside New York, a short drive from Manhattan.
If you want to experience an extra thrill in New York, take the No Door Helicopter Tour. A spectacular experience. Not only do you get an adrenaline rush: without the reflections from the doors and windows, you are also able to take the best photos.
For a more personalised flight experience, book a private helicopter tour in New York. While seeing all the iconic landmarks of the city, your own private pilot adds a touch of luxury, perfect for a special occasion.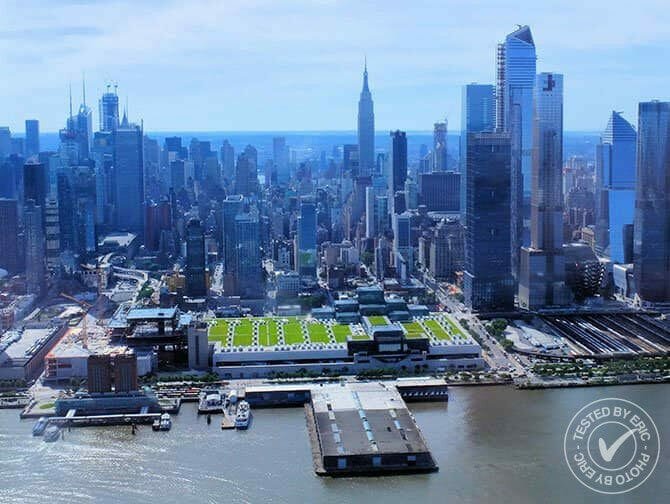 Additional Information
Important! After booking your flight, make sure you contact the tour operator to confirm the exact date and time of your booking. After making your booking online, you will receive a voucher by email containing all the operator's contact information. I advise that you contact them at least two weeks in advance. If you are booking within two weeks prior to your flight, get in touch with the operator right away to confirm the time and date. The earlier you confirm your booking, the more choice you will have of the available time slots.
If your plans change upon arriving in New York and you want to rebook your helicopter flight, you can do so by contacting the tour operator. Click here to view the helicopter tour routes.
Practical Information
After purchasing, you'll receive a voucher that you can print out and use as your ticket, or show as a mobile ticket on your phone.
Duration: varies
Departure Point: Downtown Heliport at Pier 6
Departure Times: varies
Arrive at least 30 minutes before departure time
Helicopters fit up to six passengers
Please note there are no flights on Sundays. This makes the other days sell out faster, so reserve your spot before you leave.
A variety of helicopter tours in New York can be found here
What is the best helicopter tour in New York?
Personally, I have now taken over 20 and have found all of them to be well worth the money. If I had to choose, I would go for
the following tours
.
How much is a helicopter tour in New York?
Prices for New York helicopter tours start at £125 if you book in advance here.
Was this article helpful? Recommend it by giving me a rating: