Pay attention to the sales in New York if you go shopping during your city trip. This can save you a lot of money. Shopping in New York is on the to-do list with many visitors. Due to the wide range of shops on offer, the Big Apple is a real shopping paradise! There are regular sales, such as the annual summer and winter sales. In addition, there is often a sale around holidays.
Saks OFF 5TH
Saks Fifth Avenue is the most famous department store in New York. Saks Fifth Avenue is known for its big selection of designer items and its spectacular Christmas window displays. Did you know they also operate an outlet store? It's called Saks OFF 5TH located at 125 East 57th Street and is home to all of the same designer brands but 70% OFF.
Century 21
To find great bargains, head to Century 21 in Downtown Manhattan. Here you can find high-end fashion and other items from brands such as Gucci, Calvin Klein and Michael Kors with up to 65% off. The outlet store has women's, men's and children's sections, as well as sections for shoes, perfumes, homeware and more.
T.J. Maxx
T.J. Maxx is a store where you'll find great bargains. This store has everything from clothing and footwear to home goods. They often carry well-known brands such as Calvin Klein and Tommy Hilfiger but they also have their 'Gold Label' which has designers like Gucci or Jimmy Choo.
Designer Shoe Warehouse
DSW, Designer Shoe Warehouse, has multiple locations in New York. If you are looking for shoes, handbags and accessories then this is the place to visit.
Factory Stores in New York
In New York, there are other options for discount shopping, namely 'factory stores'. A factory store is where surplus stock or older collections are sold. In New York City you'll find the Gap Factory Outlet and the Banana Republic Factory Outlet. If you are looking for more of an outlet centre? Read my guide on outlets in New York.
Liquidation Sales
Be careful at stores that have display signs that do not have prices listed. Never rely on texts such as "liquidation", "last days" or "going out of business". Especially electronics stores around Times Square are known to use these tricks. If you buy something from such a store, make sure that everything is in the original box, including the warranty card and manual.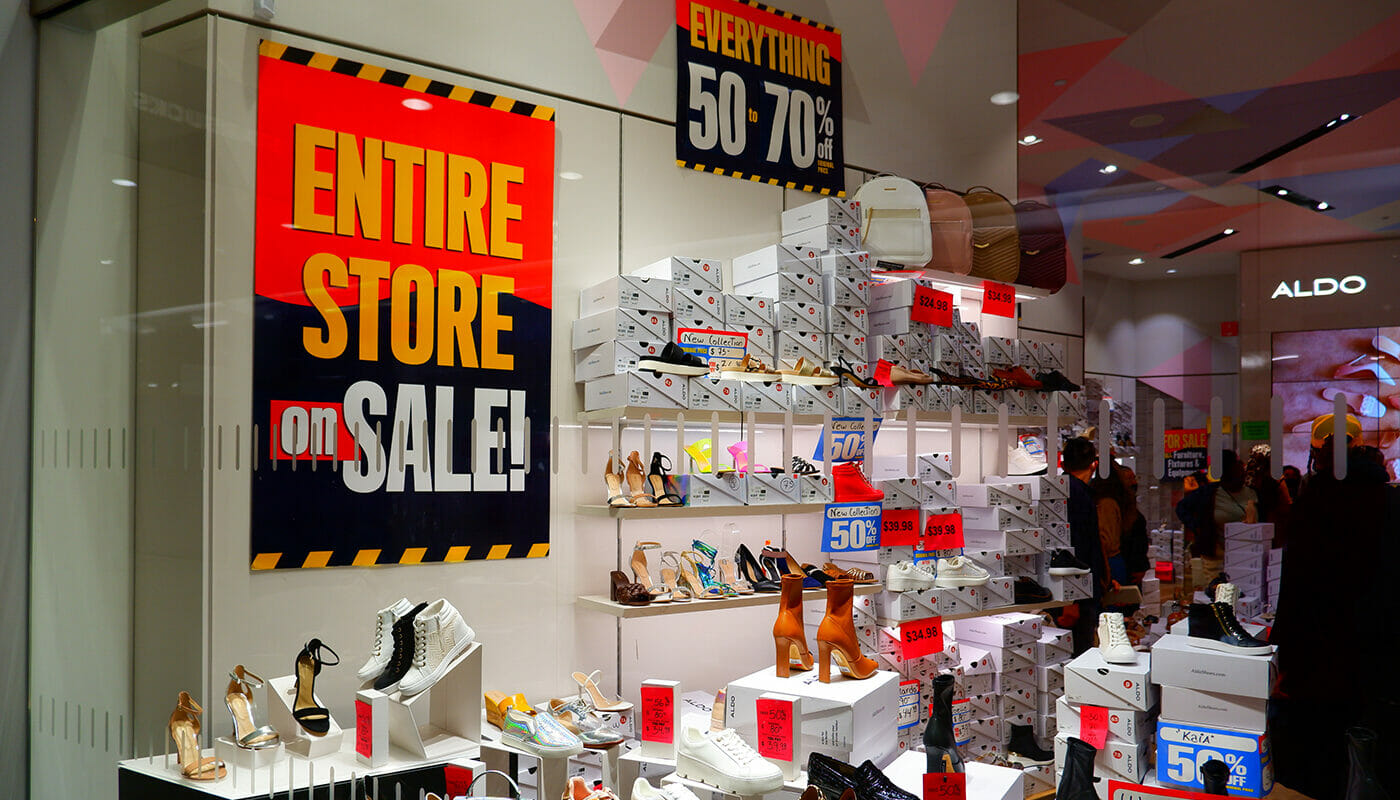 Loyalty Cards
A great way to save some money is to sign up for a free loyalty card if the store offers it. Often you can sign up with just your email address. For others, such as ones from drugstores like CVS and Walgreens they might require more information. It might, however, be worthwhile checking them out as often in-store deals are exclusive to loyalty card members.
Black Friday Shopping
When you're in New York at the end of November you're lucky, as you can then enjoy the Black Friday deals! Black Friday is celebrated the day after Thanksgiving and it's the best day to go shopping in New York! Almost all shops offer special Black Friday deals. So if you're planning on buying something specific in New York, you better wait for the great discounts on this shopping day.
Things to buy cheaper in New York than in the UK
If you plan on going on a shopping spree during your trip, there are some products and brands that are especially worth checking out. Apple products like iPhones and iPads are usually cheaper in the US. And also buying clothes in New York from well-known brands like Levi's and GAP is often cheaper than in the UK. Especially when you head to an outlet centre, like Woodbury Common.
Was this article helpful? Recommend it by giving me a rating: