Sneaker Stores in New York
Sneaker stores in New York are a paradise for shoe lovers. New York has it all, from big brands to exclusive styles. Many of the shops are more than just stores, and a real experience to visit; there is so much to see! These sneaker shops should not be missed when shopping in New York.
Sneaker Stores in New York
New York is a great place for shopping; for example, you can visit Fifth Avenue for many prestigious high-end shops, or stroll the streets of SoHo for a mix of big brands and tiny boutiques. Both areas are home to big shops from the likes of Adidas and Nike.
There are shoe shops all around the city, but for sneakerheads, there are a few sneaker stores in New York that cannot be missed during your trip.
Kith
Kith in New York is a phenomenon. The shoe and clothing brand sells products not only from its own line but also from other well- and lesser-known brands. Think Oakley, New Balance and The North Face, for example. Kith also releases collaborations with sports teams, such as the New York Knicks, and museums like the American Museum of Natural History!
This shoe and clothing shop has a total of three locations in the city, with its location in SoHo being the best known. Kith in Brooklyn is also worth a visit and can be found in Williamsburg.
Eric's Tip: "Besides trainers and clothes, you can also go to Kith for ice cream and milkshakes. A Kith Treats can be found near each shop so if you get hungry while shopping, a stop at Treats is well worth it."
SNS (Sneakersnstuff)
The Meatpacking District is home to Sneakersnstuff, also known as SNS. This sneaker store in NYC has shoes from major brands like Adidas and Nike, including sneakers from unique collaborations you won't easily find anywhere else. You can also buy clothing, with streetwear being particularly popular.
Extra Butter
Extra Butter in the Lower East Side is heaven for shoe lovers. Their sneaker collection is carefully selected, with everything from coveted classics to unique releases found in all kinds of styles. The brand also sells jewellery, watches, homeware and more.
District One
If you're looking for an exclusive sneaker, chances are you will find it at District One in the Lower East Side. You can get exceptional sneakers at reasonable prices, and people sell their trainers here so the selection continually changes. In addition, sneakers for kids are available here. There's something for the whole family at District One!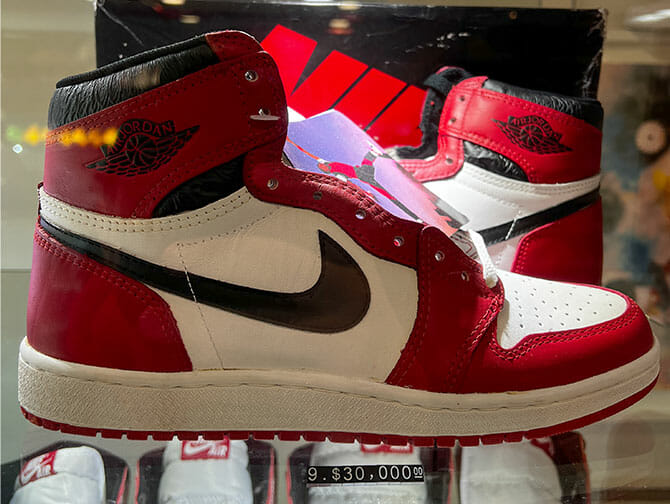 Laced Up
Laced Up is another resell sneaker store in New York. This NoHo store began as a modest shop in Albany, New York and has now expanded to six locations throughout New York, with the NoHo location being the largest. Here, too, you will find both new shoes and second-hand sneakers, so a unique pair is almost guaranteed. Many of the shoes here are plastic-wrapped. This is done to keep the trainers beautiful and free of damage so they retain their value!
Exclusive Sneaker Stores in New York
As well as the trainer shops mentioned above, there are a few more where you will find shoes with a bigger price tag. These are very exclusive shoes and therefore exclusive shops. Filming is not usually allowed and there may be a queue at the door. But a true sneaker fan should not skip these shops. Visit Stadium Goods in SoHo or Flight Club near Union Square, for example.
Was this article helpful? Recommend it by giving me a rating: