Spamalot on Broadway Tickets
Buy your Spamalot on Broadway tickets before going to New York. You can easily buy your theatre tickets online, saving you money and time. Spamalot is a musical comedy based on the film Monty Python and the Holy Grail. Throughout this medieval adventure, King Arthur and his knights face extraordinary challenges.
Buy your tickets for Spamalot here
Exclusive: Select the 'Flex Tickets' option at the Checkout and cancel or change your booking up to 72 hours before the show!
Pay safely and easily with:
A Surprising Medieval Adventure
King Arthur tries to persuade the knights of the Round Table to join him in Camelot. When he has gathered a group of extraordinary knights, God appears and tells them to find the Holy Grail. Along the way, they encounter immoral French soldiers, potential marriage partners and shocking revelations.
Back in Time
Go back in time 1,000 years while watching Spamalot. This historical musical is sure to make you laugh. With songs like "Always Look on the Bright Side of Life" and "The Song Goes Like This", you will have an unforgettable evening. Including Tony Award winner James Monroe Iglehart, and nominees Christopher Fitzgerald and Ethan Slater.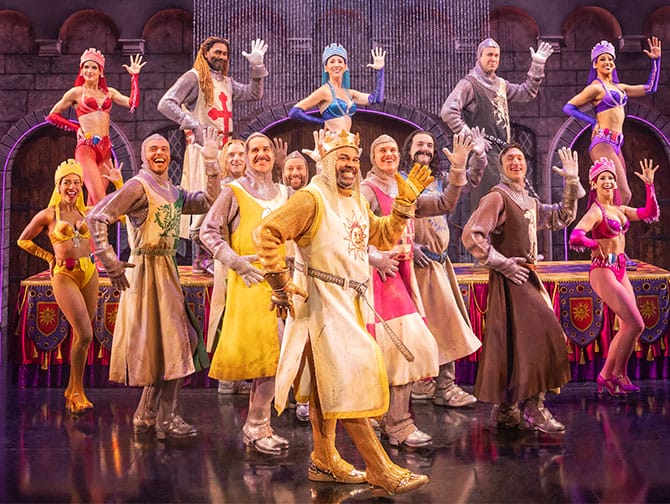 How to buy Spamalot on Broadway Tickets?
Spamalot on Broadway tickets on NewYork.co.uk are 100% authentic, without the involvement of any other third-party sellers, keeping prices low. After your order has been processed, you will receive a confirmation email immediately. For this musical, you will get an email with the QR codes no later than 7 days prior to the show! Just show this QR code on your phone at the theatre and enjoy. Send me an email if you want to book for groups of 10 people or more.
Why buy through NewYork.co.uk?
No unexpected costs. What you see is what you pay!
No need to download apps or print tickets. Just show the QR code
Guaranteed authentic tickets
Best available seats, always next to each other
A dedicated service desk: You can always contact me directly
Pay safely with a credit card or PayPal
If you choose a flex ticket, cancellations are possible before the show date.
Buy your tickets for Spamalot here
Show Information
Minimum age: Recommended for ages 9 and up. Children under the age of 4 are not permitted in the theatre.
Duration: 2 hours and 20 minutes
Location: St. James Theatre, 246 West 44th Street
Accessibility:    
for the St. James Theatre seating chart
Buy your tickets for Spamalot here
Don't want to see Spamalot?
See a variety of other Broadway shows here
Upcoming shows
Sun December 10th 2023 - 15:00 - Monty Pythons Spamalot - St. James Theatre
Tue December 12th 2023 - 19:00 - Monty Pythons Spamalot - St. James Theatre
Wed December 13th 2023 - 14:00 - Monty Pythons Spamalot - St. James Theatre
Wed December 13th 2023 - 19:30 - Monty Pythons Spamalot - St. James Theatre
Thu December 14th 2023 - 19:00 - Monty Pythons Spamalot - St. James Theatre
Fri December 15th 2023 - 19:30 - Monty Pythons Spamalot - St. James Theatre
Sat December 16th 2023 - 14:00 - Monty Pythons Spamalot - St. James Theatre
Sat December 16th 2023 - 20:00 - Monty Pythons Spamalot - St. James Theatre
Sun December 17th 2023 - 15:00 - Monty Pythons Spamalot - St. James Theatre
Tue December 19th 2023 - 19:00 - Monty Pythons Spamalot - St. James Theatre
* The lowest price for this musical is (among others) found on Tue December 12th 2023 19:00
* The highest discount for this musical is (among others) found on Tue December 12th 2023 19:00
Was this article helpful? Recommend it by giving me a rating: