Midtown Manhattan in New York
Midtown Manhattan in New York, along with Uptown and Downtown, is one of the three parts of the island of Manhattan. In New York, Manhattan is considered the city's main district, with dozens of skyscrapers. Every day more than 3 million people work at this economic centre. However, these workers often live elsewhere and commute to Midtown. Midtown has a high population of world-famous buildings and squares.
Midtown Manhattan in New York
Midtown Manhattan is an area where a lot of the famous landmarks and attractions in New York are located. For example, most of the observation decks in New York are here, as well as Times Square and Grand Central Terminal. In addition, many hotels in New York can be found in Midtown Manhattan.
Times Square
Times Square is sometimes referred to as the centre of the world. Nowhere else on earth do these many different cultures come together on one square every day. Times Square is the intersection of 2 streets, 7th Avenue and Broadway. Since 2009, Broadway between 42nd and 47th Street has been closed to give tourists more room. There are many tables and chairs on the square that are free to use. Especially when it is dark, Times Square is dominated by the lights of billboards. The facades of TSX Broadway and other Times Square buildings are covered with huge screens that display the biggest advertisements. A phenomenon that just can't be missed when visiting New York.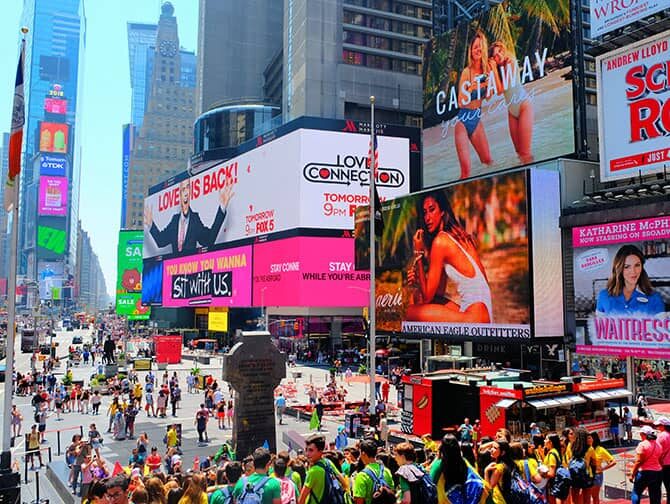 Empire State Building
The Empire State Building, with its 103 stories and 443 metres (1,454 feet), was once the tallest building in New York, now that honour belongs to the One World Trade Center. The building was finished in 1931 and has been a New York icon ever since. The Empire State Building has a different colour almost every day. Every colour combination has its own significance. You can visit the Empire State Building every day.
SUMMIT One Vanderbilt
Summit is an observation deck located in the One Vanderbilt skyscraper in Midtown Manhattan. SUMMIT One Vanderbilt is set at an altitude of 1000 feet and offers great views of surrounding landmarks. However, it is not only a viewpoint but also a special audiovisual experience. From here, you can see the Empire State Building, Central Park, Times Square, and many more. You can visit the observation deck during the day and at night, and both provide unique experiences.
Hudson Yards
On the west side of Midtown Manhattan, you can find Hudson Yards. This neighbourhood mainly consists of skyscrapers and has several attractions that are worth a visit. For example, the Edge observation deck is located in one of its buildings. This is the highest outdoor viewpoint in New York. If you are a daredevil, you can do the City Climb here as well.
Chrysler Building in Midtown Manhattan
One of the finest buildings in Manhattan is the Chrysler Building. The Chrysler Building is a whopping 319 meters high and was the second tallest building in New York for decades. Because the Chrysler Building is not accessible to the public, the building can best be seen from the Empire State Building or SUMMIT One Vanderbilt.
Top of the Rock and Rockefeller Center
Rockefeller Center is best known for the ice rink with the golden statue. The 'centre' has 14 buildings, built between 1929 and 1940, in the heart of Manhattan in New York. Since 2008, you can also find Top of the Rock, a lookout over Manhattan, Queens, New Jersey, and Brooklyn.
Grand Central Terminal
Grand Central Terminal is the main train station of New York City, next to Penn Station. Grand Central Terminal is also popularly called Grand Central Station. In addition to the trains, there are also five subway lines that come together, lines 4, 5, 6, and 7 and the S. Grand Central Terminal is a must-see if you are in New York.
Hotels in Midtown Manhattan
Midtown Manhattan is a perfect place to stay. Many major attractions are in this area, so booking a hotel in Midtown Manhattan means you can visit a lot on foot. It's also the area with probably the most hotels in New York, so there's a lot to choose from. Good options include Fairfield Inn Times Square (which has its own rooftop bar) and Yotel. A comfortable but slightly more expensive hotel is Marriott Marquis on Times Square.
How many boroughs does New York have?
New York has five boroughs: the Bronx, Queens, Brooklyn, Staten Island and Manhattan. Read more about the
New York boroughs
.
In which New York area should you stay?
As most of the sights and attractions are located in Manhattan, this is a great spot to stay at. However keep in mind that prices are higher - alternatives for Manhattan can be found in the
in the New York borough list
.
How many districts are there in Manhattan?
Was this article helpful? Recommend it by giving me a rating: