Empire Outlets New York City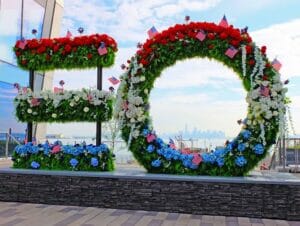 Empire Outlets New York City is New York's only shopping outlet centre. In the wider New York area there is Woodbury Common Premium Outlets, but a more central designer outlet had been missing. Empire Outlets has a great location, on the Staten Island waterfront. Shop till you drop and complete your visit with a drink and a bite to eat on one of the benches offering great views of the Manhattan skyline.
Fashion Paradise
Empire Outlets is a 107,000 m² retail complex that will feature 100 shops, offering dining and entertainment, but mostly, fashion. Generally New Yorkers love their fashion. Now they can finally satisfy their cravings, at this shopping paradise full of affordable designer items. And, more importantly, so can you! Brands at Empire Outlets include H&M, Nordstrom Rack, Nike Factory, GAP and Old Navy. The outlet centre is superbly designed: like an outdoor shopping mall. There are plenty of benches, so you can rest during your shopping spree. The outlet centre consists of four levels of stores. On the waterfront you can find, a Walgreens, a Starbucks and several other places to grab a drink and a bite.
Eric's Tip:
If you plan on taking the free
Staten Island Ferry
during your trip, I definitely recommend paying a visit to Empire Outlets: It's right next to the ferry terminal. However, as the centre only just opened, many of the shop units are still empty. In the coming months, more and more brands will be added. Therefore, I wouldn't recommend going specifically for the outlet (yet).
Empire Outlets Location
New York City's first designer outlet area is located on Staten Island, in the St. George Waterfront District. It's easily accessible, just take the (free!) 20-minute Staten Island Ferry from Downtown Manhattan. Getting there is an experience in itself, the ferry passes the Statue of Liberty, Ellis Island and the Lower Manhattan skyline. After arriving at the Staten Island Ferry Terminal, it's only a few minutes walk to the outlet centre. Exit the terminal on the right side and you will see the centre in front of you!
Empire Outlets Shopping Tour
If you want a more convenient way to get to Empire Outlets, you can take this luxury shuttle. The shuttle has leather seats and will bring you directly from Times Square to Staten Island Ferry's Whitehall Terminal. Bottled water and an Empire Outlet Coupon book are included!
Book the Empire Outlets Shuttle Here