Hudson River Park in New York
Hudson River Park in New York, located on the west side of Manhattan, is a park full of greenery. It lies along the Hudson River, and stretches 4 miles (7 km) long from Battery Park in the south to 59th Street in the north.
It's home to several piers, each with its own elements such as playgrounds, sports fields and even beaches. Each pier gives you great views of the Hudson River and the Manhattan skyline. Hudson River Park is a wonderful place for a walk, a bike ride or to just sit back and relax for a while.
Hudson River Park in New York
With more than 25 piers, Hudson River Park has a wide array of fun things to do. Here are my highlights:
Pier 25
Pier 25 is located off TriBeCa and is the longest pier in Hudson River Park. There is a playground for children and you can find public toilets there, too. There's also a mini-golf course and a sand volleyball court. For something to eat, you can go to the small snack bar or visit Grand Banks, which is a historic ship moored to the pier that's home to an oyster bar. From the pier, you can see the Statue of Liberty in the distance as well as a view of Lower Manhattan.
Pier 45
Another name for Pier 45 is Christopher Street Pier, and it's a great place to unwind. The pier offers plenty of greenery and lawns, and many New Yorkers can be found there on hot days. Free concerts are also held here during the summer months. Pier 45 is located off the West Village.
Pier 57
The old maritime shipping and storage terminal has been reconstructed into the current Pier 57. A park on the building's roof offers views of Little Island, Downtown Manhattan, and the Chelsea Piers. In the food market, located inside the building, you can enjoy all kinds of dishes. From Japanese and Italian to Chinese and Cajun, Market 57 has it all.
Pier 66
Pier 66 is definitely the place to be for dining. The big red boat moored at the pier is called the Frying Pan and it's a fun place to eat. There are lots of cosy seating areas on the pier where you can enjoy all kinds of seafood. It's an especially magical place in the evening. During the winter months, the restaurant is closed. You can combine a meal at Pier 66 with a visit to nearby Hudson Yards.
Little Island
Little Island is a unique pier with a park standing on 280 concrete stilts in the water. This green park looks very futuristic and is beautifully landscaped. You can explore the 'secret garden' here, stroll along the various paths and enjoy the sun on one of the lawns. You can get something to eat at the nearby Chelsea Market, and then have a picnic on one of the lawns of Little Island!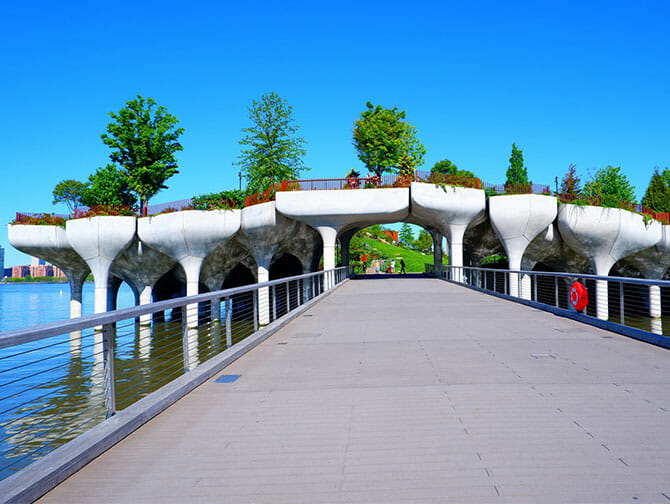 Gansevoort Peninsula
Manhattan's first beach can be found on Gansevoort Peninsula. Pier 53 has been completely renovated into an oasis of green and there is also sports equipment and a dog park. Because Gansevoort Peninsula is near the Whitney Museum, it's a great idea to combine the two.
Pier 84
Pier 84 lies between the pier where the Circle Line boats leave and the pier where the Intrepid Sea, Air and Space Museum can be found. On this pier, among other things, there is a water fountain where everyone can cool off during hot days. Another way to cool off is by going kayaking or on a SUP board and admiring New York from the water.
Chelsea Piers
Piers 59, 60 and 61 make up the Chelsea Piers, where you can do all kinds of activities. For example, there is a golf club and a bowling alley and you can go ice skating. Furthermore, the complex is a venue for many interesting events and the Silver Screen Studios can also be found here. Scenes from Law & Order, among other popular shows, were shot in this movie studio.
Where does Hudson River Park begin?
Hudson River Park in New York begins in Battery Park and runs, along the Hudson River, all the way to 59th Street. Read about what you can do there right here.
Is Hudson River Park worth a visit?
A visit to Hudson River Park is well worthwhile. The park offers several piers with something for everyone. Read more here.
Was this article helpful? Recommend it by giving me a rating: