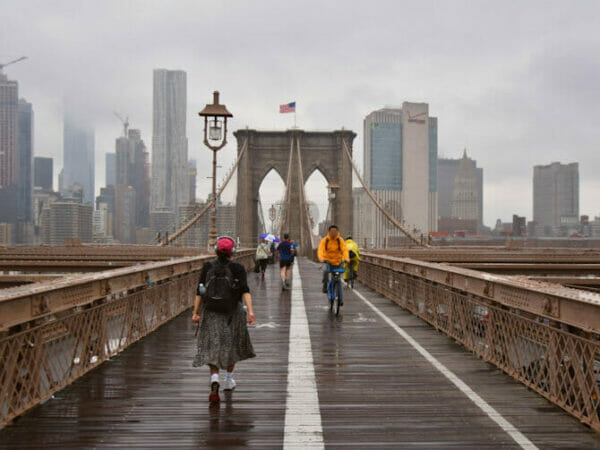 Rain in New York is not uncommon so sometimes there's bad weather here but don't worry! If you see dark clouds gathering outside your hotel window and you ask yourself "what do you do when it rains in New York?", here are some tips for what to do in bad weather in New York. A rainy day in NYC doesn't have to mean that your whole programme falls through.
Rain in New York
If the New York weather forecast or the New York rain radar predicts rain, you don't have to worry. It may rain but that doesn't mean it will pour all day or be a bad omen for your holiday. The weather in New York is changeable due to the wind moving across the Atlantic so a shower won't last too long. By the way, with the right attitude and an umbrella, the rain doesn't change the beauty of the city at all. Don't let a few drops spoil your fun in the Big Apple!
Of course, it helps if you pack a waterproof jacket, such as a light rain jacket to pull over your head. Many rain jackets can be rolled up small so they don't take up much space in your suitcase. You can buy umbrellas on almost every corner; most drug stores, such as Duane Reade, and delis sell umbrellas for under $10. Alternatively, borrow an umbrella from the hotel. Rainproof shoes are also an advantage, but you can leave the rubber boots at home.
If you know in advance what you want to see in New York and you're flexible, bad weather won't be a problem. For this reason, by the way, I can also recommend a discount pass.
Activities for bad weather in New York
New York's rain can turn the city into a somewhat unfriendly city from time to time. But as I said, if you're a little flexible, even constant rain won't bother you. The New York weather forecast is something to observe. To the question "What can you do in New York when it's raining?" I like to answer with "almost everything!". Below you will find my suggestions for rain in New York, sorted by category.
Museums – ideal when it rains in New York
New York is home to world-famous museums and especially when it rains, you will not only stay dry there, but you can also educate yourself at the same time. If museums were not on your original agenda, even myself as someone who is unenthused about museums, can recommend a visit. For example, discover the diverse exhibits of weapons and armour at the Metropolitan Museum of Art or climb into the flight simulator at the Intrepid Sea, Air and Space Museum. Another museum I can recommend to every visitor is the 9/11 Museum, which provides information about the events and effects of the September 11 attacks.
Are you visiting the Big Apple with kids? Certain museums are still a good way to pass the time. If jumping from puddle to puddle has become boring, then a trip to the American Museum of Natural History is worthwhile. The dinosaur skeletons in particular impress me every time. You could really spend hours in this natural history museum – after that, the rain in New York will have certainly stopped. If you have bought the New York Pass, then you should pay a visit to the Rise NY in Times Square. Here you can discover the city of New York in a fun way. Various topics that shaped New York City, such as skyline and movies, culminate in an unforgettable experience: a flight over the city.
New York in the rain – perfect for a musical
Nothing makes you forget bad weather in New York like a visit to a musical. Apart from the fact that I recommend a Broadway musical to everyone, it's a nice activity for the whole family, especially when the weather in New York doesn't cooperate. While the rain pelts the pavement outside, you can escape into the magical world of Aladdin, Chicago or the Lion King. While you enjoy the splendid entertainment in the warmth, not only will your soaked clothes dry, there is also a good chance that you will experience sunshine instead of rain at the end of the performance. If it does rain, at least you can dance and sing through the streets of Manhattan inspired by the musical, like Gene Kelly in the famous musical "Singin' in the Rain".
Sports events – dry in the New York rain
It's a rainy weekend afternoon in New York or a weekday evening that literally falls through – what can you do? Many New Yorkers will recommend you to attend a sports event of their favourite team. I'm one of those New Yorkers! First of all, a sports event doesn't have to be expensive (especially not if you book your tickets online). Secondly, there really is a game on almost every day in New York and thirdly, it's incredibly fun to cheer on the players with the locals.
When the chance of rain is quite high, especially in autumn and winter, you can spend a wonderful time with the Knicks or Nets. Madison Square Garden or the Barclays Center is a good place to warm up, because the only thing that can get wet here are the players' jerseys! With a glance at the New York sports calendar, you can immediately see which games are taking place.
Go shopping with bad weather in New York
If museums aren't your thing but you'd still like to spend an hour or two in the dry, then a shopping centre is a good choice. The largest shopping centre in Manhattan is located in the Financial District. The Westfield World Trade Center Shopping Mall not only houses a large selection of shops, but the architecture of the structure is also impressive. Since all the shops are completely covered and the whole thing also accommodates an underground station, you already stay nice and dry on the way there. However, if you are already wet, you can at least invest in some new clothes here.
If you're not near downtown but just want to escape the rainstorm in Central Park, there's also a shopping centre at Columbus Circle called The Shops at Columbus Circle. Not only is it a great place to shop, you can also stock up on delicious food at Whole Foods or dine out at the mall's restaurants. Near the High Line is The Shops & Restaurants at Hudson Yards.
Indoor theme parks in New York
A rainy day in New York can be spent in one of the indoor amusement parks near New York. In the American Dream Mall, which can be reached by public transportation or a taxi, you will find Nickelodeon Universe and DreamWorks Water Park amongst others. Nickelodeon Universe is all about the animated characters that are central to the various attractions. The amusement park is fun for young and old. A day trip full of water fun is DreamWorks Water Park. This pool has high speed slides, but also attractions for the little ones. Together with the wave pool, the park is fun to visit with children. Besides Nickelodeon Universe and DreamWorks Water Park, you can discover underwater life in SEA LIFE Aquarium or visit the LEGOLAND Discovery Center.
New York in the Rain – Feasting at the Food Market
Speaking of food: If you're visiting Hudson Yards, you should make a detour to Mercado Little Spain where you can comfortably warm-up and try Spanish delicacies. As soon as I have a delicious tortilla on my plate, I almost don't care about the rain. In general, food markets are a great thing to do when it rains in New York. Besides Mercado Little Spain, there is a wide range of indoor markets scattered all over Manhattan.
The most famous is probably the Chelsea Market in the Meatpacking District. Not only can you taste dishes and food from all over the world, but you can also go shopping. Since everything here is sheltered, you can brave the rain here for quite some time. If you prefer Italian, you'll find a culinary paradise at Eataly. The original store is located near the Flatiron District, but there is also another branch downtown. So when it rains in New York, you certainly won't be bored.
Visit famous buildings
It's still raining and you're running out of ideas? Then take the next subway to Grand Central Terminal, where a true architectural gem awaits you. The station inside offers an impressively painted ceiling, the famous US flag and a golden station clock, making it an ideal place for photos. I could spend hours here watching the hustle and bustle of travellers! In addition to its architectural beauty, Grand Central also has a variety of shops and restaurants. So you could easily spend a whole day here if you wanted to.
Is Grand Central too noisy and crowded for you? Then explore the Public Library instead! But shhh, the only sound you'll hear here is the pattering New York rain. The main building is right next to Bryant Park, so it's perfect if a shower catches you out. Not only is it a perfect shelter when it's raining, you can spend hours quietly reading books in the Rose Main Reading Room. If you're not a bookworm, just take advantage of the free Wi-Fi or charge your smartphone while watching all the readers. Maybe you'll even find the ghost of the librarian, like in the movie Ghostbusters…
Are you the kind of person who doesn't mind rain in New York? Congratulations! Take advantage now to have some of New York's highlights almost all to yourself. Sights such as the Brooklyn Bridge, for example, have very few visitors in bad weather, especially when it rains in the morning or early evening. The rain then also bathes the whole thing in a very special atmosphere, ideal if you've been waiting for a special photo moment!
Was this article helpful? Recommend it by giving me a rating: