American Dream Mall near New York
American Dream Mall near New York is a large shopping centre with several amusement parks and attractions. American Dream is located in New Jersey, a short travel distance from Manhattan. The mall houses hundreds of stores, but the many attractions that can be found here are most notable. There is a Nickelodeon theme park, DreamWorks water park and an indoor ski and snowboard park called Big SNOW. American Dream Mall is therefore a fun destination for the whole family, for a day full of entertainment.
Stores at American Dream Mall
American Dream is an indoor mall, making it a very suitable place to spend a rainy day in New York. With public transport or a cab, you can get there from Manhattan within 30-40 minutes. The stores in American Dream are aimed at regular shoppers. You will find a few expensive high-end brands, but mostly stores like Primark, H&M and American Eagle. One of the stores worth visiting is IT'SUGAR: an impressive three-story candy store that looks like Willy Wonka designed it himself. You can also head to the flagship store of Toys"R"Us where you can find a two-story slide and an ice cream parlour.
In the middle of the mall, you'll find a beautiful "secret garden" where you can take a break from your shopping. You will be surrounded by greenery and statues of gnomes, mushrooms and rabbits. There are many stores in the mall and along with the attractions it is pleasantly busy. In addition, there are also many restaurants. You can get lunch or dinner, from steak and tacos to pizza and Asian dishes. The shopping centre is still in development, so currently there are still relatively many empty spaces.
Eric's Tip:
"American Dream Mall NJ is part of the Meadowlands Sports Complex, which also includes the MetLife Stadium. This is the stadium where the
New York Jets
and
New York Giants
play their games. The mall and MetLife Stadium are connected by a walkway, making it easy to get to the stadium after shopping and end the day with an American Football game."
American Dream Mall attractions
American Dream Mall is not just a shopping mall. The many attractions that can be found here are at least as much fun. You can easily spend a day here. Since everything is covered, it's a great place to go alone or with kids, especially on a cold or rainy day.
Nickelodeon Universe
Nickelodeon Universe is a real amusement park, full of roller coasters and other attractions. You will need separate entrance tickets for this, just like for the other attractions in American Dream. This indoor amusement park has fun attractions for all ages, based on the characters of Nickelodeon TV series like PAW Patrol and SpongeBob.
DreamWorks Water Park
Would you like to go swimming with the whole family? Then you should visit the DreamWorks Water Park, the largest indoor water park in North America. The Water Park has enough slides and other water attractions for hours of fun in the water.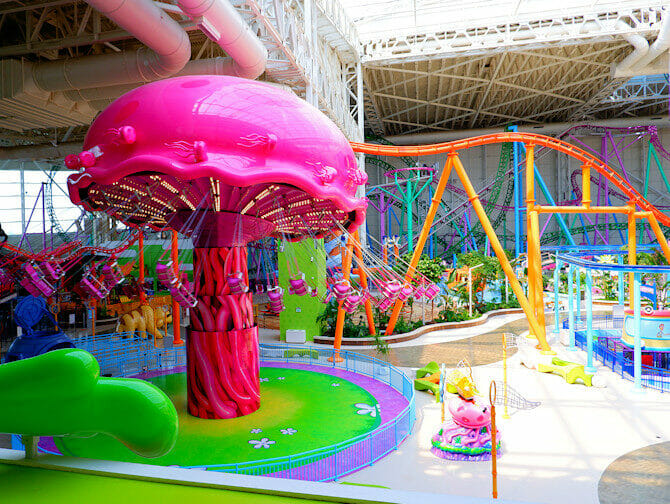 LEGOLAND Discovery Center
LEGOLAND is also represented in American Dream New Jersey. The LEGOLAND Discovery Center specifically targets children ages 3 to 10 and introduces them to the world of LEGO. There are rides, life-size LEGO dolls and a miniature city built with LEGO blocks. Don't confuse LEGOLAND Discovery Center with LEGOLAND New York Resort, the LEGOLAND theme park in Hudson Valley.
Buy your LEGOLAND Discovery Center tickets here
Dream Wheel
Admire the views of the Manhattan skyline from the Dream Wheel located in the American Dream Mall. You will ride the 300-foot Ferris wheel for 30 minutes, seeing both Manhattan and New Jersey. With this flexible ticket, you can plan your visit around the weather.
Buy your Dream Wheel tickets here
SEA LIFE Aquarium
At SEA LIFE in the American Dream Mall, you'll find an underwater tunnel and thousands of fish living in several beautifully set-up aquariums. Have you always been curious to see what Times Square would look like in the underwater world? Then make sure to visit this special branch of SEA LIFE. All the habitats of the fish here are inspired by New York attractions.
Buy your SEA LIFE tickets here
Big SNOW
Big SNOW is America's only indoor ski resort with real snow that's open year-round. Whether it's winter or in the middle of summer, you can ski or snowboard. There are many different packages to book, with or without equipment, lessons, etc. It doesn't matter if you're an experienced skier or new to the sport, Big SNOW guarantees you a successful winter's day!
Angry Birds Mini Golf
For those of you who have always wanted to play around with the birds of Angry Birds in real life, American Dream has "Angry Birds Mini Golf". On this eighteen-hole miniature golf course you not only use a golf club, but you can also use, for example, a catapult to knock over the birds for a real 'Angry Birds experience'.
Buy your Angry Birds Mini Golf tickets here
Other Attractions
The above attractions are not all there is to do at American Dream Mall Meadowlands. You will also find a Mirror Maze, Blacklight Mini Golf, ice skating rink, Escape Game, Paradox Museum and a museum of optical illusions called TiLT. One thing is for sure: nobody will be bored for a second in this New Jersey mall!
Practical Information
On Saturdays, Sundays and national holidays, the direct NJ Transit bus 355 runs from Port Authority to American Dream. On weekdays, there is no direct bus, you have to transfer once in New Jersey to another NJ Transit bus. It is also possible to use Uber or Lyft from Manhattan, the cost will range from $40 to $100 depending on crowds and availability. Use this link and receive a $15 discount with Lyft! The credit remains valid for 14 days after creating the account. Download the app a few days before your departure to New York so that you can travel in the city at a discount.
Location: 1 American Dream Way, East Rutherford, New Jersey
Mall opening hours:

Sunday – Thursday: 11:00 – 21:00
Friday – Saturday: 11:00 – 22:00

Theme parks and attractions have different opening hours
Where is the American Dream Mall?
American Dream Mall is located in New Jersey, near New York City. The address is 1 American Dream Way, East Rutherford, New Jersey.
What is the American Dream Mall?
American Dream Mall is a large indoor mall with attractions. There are a few hundred shops, but you will also find an amusement park, water park, indoor ski hall and many other attractions. Read more here.
Are there any amusement parks in New York?
In New Jersey, a short distance from New York City, you'll find the indoor
Nickelodeon Universe
and the
DreamWorks Water Park
, a large indoor swimming paradise. Both are part of American Dream Mall, read more about this mall here.
How do I get to the American Dream Mall?
On weekends and public holidays, there is a direct bus to the American Dream from Port Authority in Manhattan. On other days there is no direct bus, you will have to change buses once.
Was this article helpful? Recommend it by giving me a rating: