West Side Story on Broadway Tickets
West Side Story on Broadway tickets can easily be purchased online. I recommend buying theatre tickets before you travel to New York to save time and money. This revival of West Side Story is directed by Belgian Tony Award winner, Ivo Van Hove, with choreography by, also Belgian, Anne Teresa De Keersmaeker. The latest edition of this 1957 classic, now in the Broadway theatre, is definitely worth a visit if you're in New York. The romance between members of rival gangs; Maria and Tony is more relevant than ever!
Buy your tickets for West Side Story here
Buy West Side Story tickets now, pay no service fee and pick-up tickets directly at the theatre!
Pay safely and easily with:
New York's Romeo and Juliet
West Side Story takes place in New York's Upper West Side during the 50's and is therefore referred to as New York's Romeo and Juliet. The classic storyline is kept alive in this revival. You'll be reintroduced to rival gangs, the Jets and the Sharks, who due to their different ethnic backgrounds, are at war with each other. In the midst of this rivalry impossible romance blossoms, between the Puerto Rican Maria; sister of the leader of the Sharks, and Tony, an old member of the 'white' Jets.
West Side Story for a new generation
Enjoy the many well known musical numbers; such as 'Tonight', 'America' and 'I Feel Pretty'. The works of Leonard Bernstein, Arthur Laurents and Stephen Sondheim are ready for a new generation! The famous dance scenes by Jerome Robbins have been replaced with alternative choreography: A first for the US, where it was not previously allowed. This doesn't mean that dance takes a less central role, however, in fact, quite the opposite! All the more reason to see the West Side Story of the 21st Century.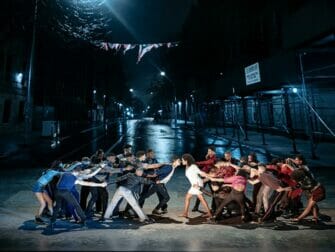 How to buy West Side Story Tickets?
West Side Story tickets on NewYork.co.uk are 100% authentic, without the involvement of any other third-party sellers, keeping prices low. After your order has been processed, you will receive a confirmation email with the official voucher. This voucher contains all the information you will need about your booking. On the day of the performance, the tickets can be picked up at the theatre box office. You can pick them up to 30 minutes before the show. A valid identity document is required in order to obtain your tickets.
Seats are assigned by the theatre, which is why you will not receive your exact seating at the time of booking. Seat numbers will be clearly marked on the tickets. For bookings up to 4 people, you are guaranteed seating next to each other. For larger groups, the theatre will try its best.
Buy your tickets for West Side Story here
Why buy through NewYork.co.uk?
No unexpected costs: What you see is what you pay!
Guaranteed best available seats at the time you book
A dedicated helpdesk: You can always contact me, by email or WhatsApp
Reliable, safe and fast
Pay safely with credit card or PayPal
If you choose a flex ticket, cancellations are possible up to 10 days before the show date.
Send me an email at [email protected] if you want to book for groups of 12 people or more.
Show Information
Minimum age: Children under the age of 4 are not permitted in the theatre.
Location: Broadway Theatre, 1681 Broadway
for the Broadway Theatre seating chart
Buy your tickets for West Side Story here
Don't want to see West Side Story?
See a variety of other Broadway shows here
Upcoming shows
Was this article helpful? Recommend it by giving me a rating: