Beetlejuice on Broadway Tickets
Save on Beetlejuice on Broadway tickets by purchasing them before you go to New York. Buying Theatre tickets online is easy, safe and, above all, saves time and money. Head to Winter Garden Theatre to see this show! Beetlejuice the musical is based on the 1988 Tim Burton cult classic movie of the same name, although the musical version doesn't resemble the movie much. Beetlejuice tells the story of Goth-teen Lydia Deetz, who is obsessed with the dead because of the passing of her mother.
Unfortunately, this show has closed
See a variety of other Broadway shows here
Haunted house
Lydia, her father and soon-to-be stepmother are moving, and it appears that there are a couple of ghosts inhabiting their new house. The previous owners; Barbara and Adam were both killed in an accident and are now trapped in their old home. Lydia is the only one who can see them. Barbara and Adam like to see the new inhabitants gone and Lydia summons demon Beetlejuice to help her kick Lydia's parents out of the house. Beetlejuice's plans, however, are quite extreme. Not everyone is so enthusiastic about his approach.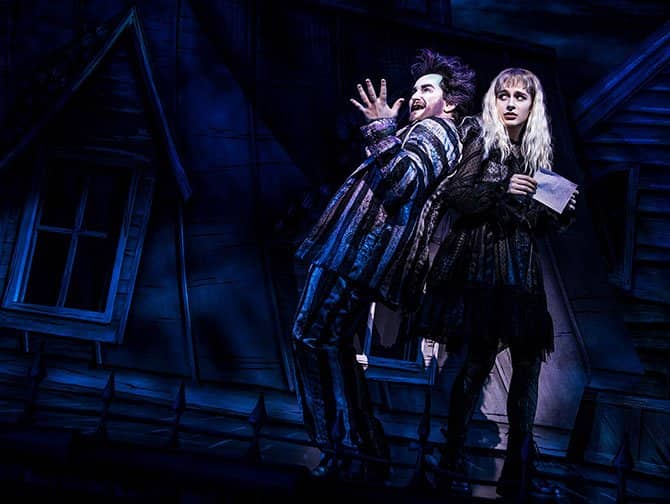 How to buy Beetlejuice tickets
Beetlejuice tickets on NewYork.co.uk are 100% authentic, without the involvement of any other third party sellers, keeping prices low. After your order has been processed, you will receive a confirmation email with the official voucher. This voucher contains all the information you will need about your booking. On the day of the performance, the tickets can be picked up at the theatre box office. You can pick them up until 30 minutes before the show. A valid identity document is required in order to obtain your tickets.
Seats are assigned by the theatre, which is why you will not receive your exact seating at the time of booking. Seat numbers will be clearly marked on the tickets. For bookings up to 4 people you are guaranteed seating next to each other. For larger groups, the theatre will try its best.
Why buy through NewYork.co.uk?
No unexpected costs, what you see is what you pay!
Guaranteed the best available seats at the time of booking
A dedicated helpdesk: You can always contact me by email or WhatsApp
Reliable, safe and fast
Pay safely with credit card or Paypal
If you choose a flex ticket, cancellations are possible up to 10 days before the show date.
Send me an email at [email protected] if you want to book for groups of 15 or more.
Eric's Tip: Who would have thought death could be so entertaining? Spend a night in the Netherworld on Broadway and be mesmerised by the set design and special effects. You might also be joined by diehard fans who come dressed up!
Show information
Minimum age: Recommended for age 12 years and older.
Duration: 2 hours and 30 minutes
Location: Winter Garden Theatre, 1634 Broadway
Click here for the Winter Garden Theatre seating chart