With a horse carriage ride in Central Park, you will tour the park in a horse-drawn carriage. Taking a carriage tour is a very nice and romantic way to experience Central Park. You will explore the bridges, fountains and statues that make the park one of the main highlights of New York. Furthermore, you can imagine being part of the "old" New York, when the wealthy citizens were transported by carriages.
Book your carriage ride in Central Park here
If the tour is not available on your preferred date, book this Central Park Horse Carriage Ride
Horse Ride in Central Park
The carriage ride takes 25, 45 or 55 minutes. In that time, you won't be able to see the entire park (it's just too big for that), but you will pass by some beautiful places and attractions. While the horse gently pulls the carriage, listen to the wheels softly rattle as the driver tells you about the history of Central Park and its many attractions. Did you know, for example, that the park was so rocky, the architects had to import the soil from New Jersey in order to be able to plant trees? Or that the park, in its entirety, is man-made! With the exception of the huge rocks, which have been there for millions of years? The drivers have a lot of experience, sometimes even decades, and can tell you a lot about the park. Do not hesitate to ask questions! Most of the drivers also have (photo) books in their carriages, so you can see how certain places looked a hundred years ago.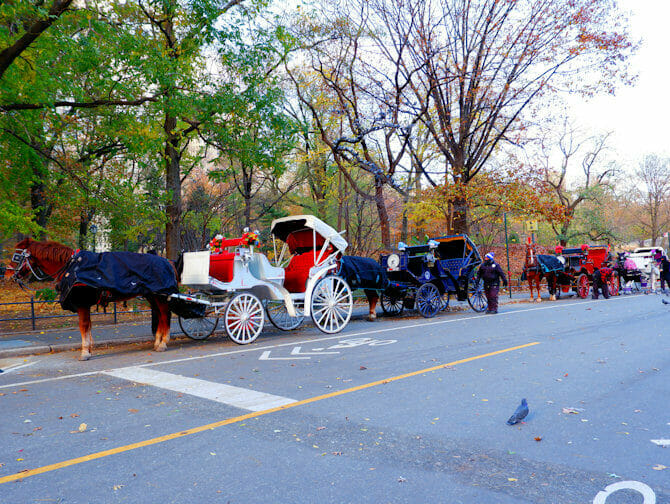 Celebrities in Central Park
The ride is certainly not just a history lesson. From the carriage, you get to witness the many ways that New Yorkers make use of the park. You might even see live tango lessons, a music concert, a wedding or a baseball game. If you're lucky, you may even see one of the many celebrities who often go running! Look out for Snoop Dogg and Sarah Jessica Parker. The driver will stop anywhere you want, so you can get out and walk around or take photos. Four adults fit in the carriage, so you could also take a ride with the family. If you just want a romantic ride for two, or to arrange a proposal: the drivers have plenty of experience with that too.
Practical Information
After purchasing, you'll receive a voucher that you can print or show on your phone.
Price: From £98 per carriage
Duration: 25–55 minutes
Extra: Max 4 adults per carriage. The carriage is always private.
This tour is seasonal. For special Christmas carriage rides, see below.
Book your carriage ride in Central Park here
Special Christmas Horse Carriage Ride
Christmas in New York is magical, but it can get even more magical in the back of a horse carriage. During this tour, you can sit back and enjoy Central Park, the Rockefeller Christmas Tree, Saks Fifth Avenue light show, and many more. See how all the lights are twinkling and get the true New York Christmas spirit.
Book the Christmas Horse Carriage Ride here
If the tour is not available on your preferred date, book this Central Park Horse Carriage Ride