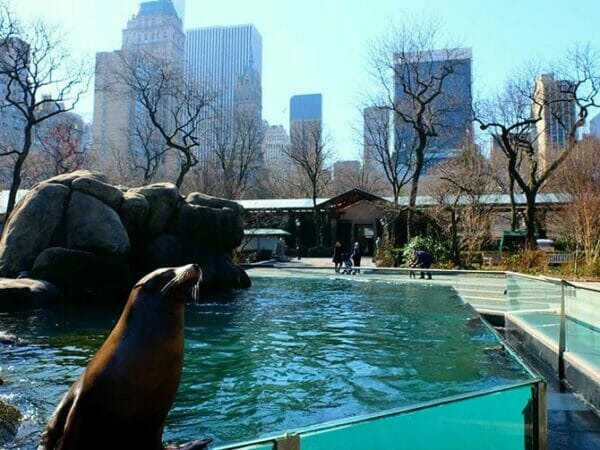 Get your Central Park Zoo tickets before you travel and save time and money. Central Park Zoo is the most famous zoo in New York. The zoo is not very big but definitely has enough to offer for a nice morning or afternoon. Especially if you are in New York with children. Central Park Zoo has a zoo, a petting zoo and a 4D cinema. Located in the south-easternmost corner of Central Park, the entrance is in the park, at the height of 64th Street.
Buy your Central Park Zoo tickets here
Animals at Central Park Zoo
Central Park Zoo has a variety of exotic animals, including snow leopards, grizzly bears, red pandas, snow monkeys and sea lions. The park is also home to a number of breeds of penguin, including the king penguin. The daily feedings of the penguins and sea lions are accessible to the public and are very nice to see! Don't forget to take a walk through the replica tropical rainforest. Various exotic birds live here, but also lemurs, bats and snakes. Alongside seeing all the animals, you can also go to the zoo to see a 4D film. This is a 3D film with extra-sensory effects, like wind and water, a whole experience! (but maybe a little scary for the very young). So if you're wondering what to do in New York with kids, then Central Park Zoo should definitely be on your list! The largest section of the zoo is accessible for prams, buggies and wheelchairs.
The Petting Zoo
Just past the main entrance to the zoo is a petting zoo, Tisch Children's Zoo, included in the tickets for Central Park Zoo. Here children can stroke the animals and, for a small donation, feed them. You won't find any leopards or grizzly bears here, but smaller animals like sheep, goats and pigs. There is also a very special attraction here: the only cow in Manhattan!
Practical information
Location: in the southeast part of Central Park
Opening times:

5th November 2023 – 28th March 2024:
29th March – 2nd November 2024:

Mon – Fri: 10:00 to 17:00
Weekends & holidays: 10:00 to 17:30

Children under 3 visit for free
included in these tickets is the entrance to Central Park Zoo, Tisch Children's Zoo
The Hop on Hop off bus stops here
Buy your Central Park Zoo tickets here
Central Park Zoo tickets are also included in the Sightseeing Flex Pass
Is the zoo in Central Park free?
Which zoo is better Bronx or Central Park?
Bronx Zoo is much larger and has many more animals than Central Park Zoo. If you have the time to visit the Bronx Zoo, it's certainly worth going there. If you have less time to spare, go to the small and centrally located Central Park Zoo instead.
Was this article helpful? Recommend it by giving me a rating: