Theme Restaurants New York
Are you looking to go to a themed restaurant in New York City? Most themed restaurants are experience focused and there are definitely plenty to choose from in New York. Although these restaurants tend to be overpriced and there are usually long queues to get in, they are still a big draw. They are mostly based on a movie or a specific genre. Themed restaurants are very touristy and should not be your first choice if you want to have great quality food. However, for the purposes of entertainment and fun, they can definitely be worth a visit.
Ellen's Stardust Diner
Ellen's Stardust Diner, from the outside, is a classic American diner, however, this place offers a high level of entertainment. The waiting staff sing their way through your order and your time there. Most of the staff are budding Broadway performers waiting for their big break so the quality of the performances is always high, It's definitely a unique experience. However, the food is not amazing, so just go there for the show. Ellen's Stardust Diner is very popular, and there can be a two-hour wait just to get in if you go around dinner time. If you want to go there without the crowd, go there for an early breakfast around 08:00.
Bubba Gump
Bubba Gump, when you enter this restaurant, you will recognise everything from the movie 'Forrest Gump'. You'll also be quizzed on your knowledge of Forrest Gump and if you're good, you might win a prize. The restaurant is always busy, but the staff works hard and makes sure you're seated and served fairly quickly. Do make sure that you only go here if you like shrimp because that's prominent on the menu. This restaurant is very touristy.
Hard Rock Café
If you like to rock, go to the Hard Rock Café. With 708 seats, the Hard Rock Café in New York is one of the biggest in the large chain. The café is filled with a collection of items from rock-legends such as The Beatles, Nirvana, The Ramones and so on. What's unique about this Hard Rock Café is that they also have a collection of items from rock legends that have ties to New York: like John Lennon, for example. Once or twice a day, the whole HRC team gathers to dance to Y.M.C.A by Village People and invites everyone in the restaurant to dance along. 
Tip: Don't leave HRC New York without trying one of their typically American desserts, the apple cobbler. You won't regret it!
You can also book a 2 or 3-course meal with various themes like Blue Grass, Hip Hop or Rhythm and Blues. All menus include one non-alcoholic drink and a dessert. For children, there is a Lil Rocker menu.
Book a 2 or 3-course menu at the Hard Rock Cafe here
Trinity Place
Go for a drink or dinner to Trinity Place in Downtown Manhattan and you can say you've been in a real bank vault! Located in the Financial District, near the 9/11 Memorial, this restaurant was hailed in 1904 as the largest and safest bank vault in the world. In the meantime, the space has been transformed into an atmospheric restaurant, where you can enjoy brunch, lunch, dinner or just a cocktail at the bar. Due to its location, it is a hot spot for bankers who work in the area. Families come here not that much. If you are considering going here with children, lunch is the best time.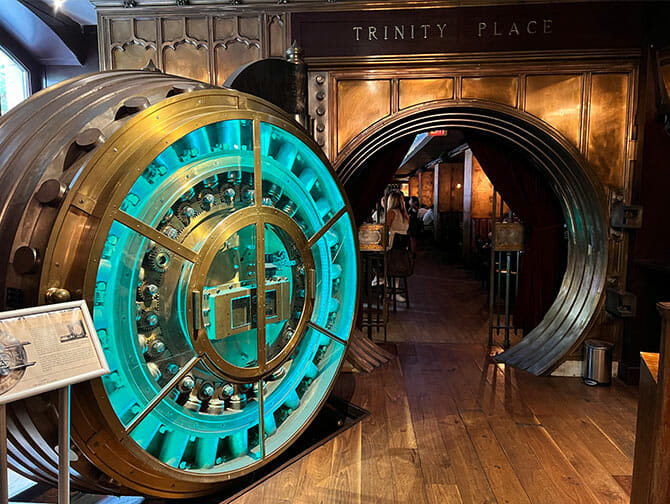 Oscar Wilde
This restaurant is already an attraction itself; it is beautifully decorated with unusual and historical elements. The restaurant, which opened in 1909, has the longest bar in New York (118.5 feet!) and serves over 300 different varieties of whisky. The restaurant's atmosphere is more akin to that of a pub, making it more appropriate for those over the age of 21.
Every holiday, the restaurant's decor will be changed to reflect the theme. For example, it will be decorated with cobwebs for Halloween and extravagant ornaments for Christmas.
Was this article helpful? Recommend it by giving me a rating: