Columbus Day in New York

2021
Columbus Day in New York is an annual celebration that takes place in October. Celebrating Christopher Columbus, the man who discovered America with a big parade over Fifth Avenue.
History of Columbus Day
Christopher Columbus (1451 – 1506), born in Italy, was an explorer and a sailor. He believed there was a shorter route between Europe and the Indies, and financed by the Catholic Monarchs of Spain (Queen Isabella and King Ferdinand II of Aragon) set out to find it. He set sail, heading west with three Spanish ships. On the 12th of October 1492 Columbus saw America for the very first time. Upon arriving on American soil, he assumed he was in India,  which is why he called its indigenous people Indians.
The first memorial service for Columbus was held in 1792: 300 years after he first set foot in America. As Columbus was an Italian, the Italian-Americans see him as a hero and as a big part of their culture. This community has contributed significantly to the expansion of Columbus Day. On the 12th of October 1866, the Italian community of New York threw a party to commemorate the discovery of America, and the tradition of Columbus Day was born. A statue of Christopher Columbus was later erected on Columbus Avenue in 1892.
When is Columbus Day?
Columbus Day falls on every second Monday in October, around the date when Christopher Columbus first set foot in America. In 2021 Columbus Day will be on October 11th.
What can you do on Columbus Day?
Columbus Day in New York is celebrated each year with a big parade: the Columbus Day Parade. 35.000 people participate including groups, bands, floats and the marines. The parade attracts around a million visitors, and another million people watch the parade on TV!
The parade starts on Fifth Avenue and 44th Street and heads north along Fifth Avenue towards 72nd Street. Make sure you have a good place to stand on Fifth Avenue. The parade starts at 11:30 and ends at 15:00.
What can you expect on Columbus Day?
Columbus day is a bank holiday. This means that schools and government buildings are closed. Expect it to be very busy around Fifth Avenue due to the parade. If you want to go shopping there, make sure you don't schedule it on that day!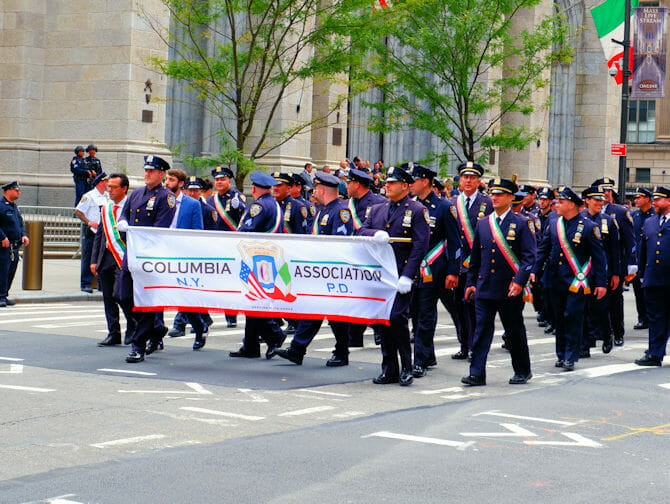 Was this article helpful? Recommend it by giving me a rating: