Typical American Food in New York
'Where can I eat typical American food in New York?' First things first, what is 'typical American food'? Of course, I'll start with my good old favourites: burgers and pizza. Another very 'American' thing to do is eat 'Southern soul food', such as barbecue dishes and pulled pork. Besides that, there is a new American cuisine, due to the country's rapidly evolving food culture. In this top five, I tried to make a selection of restaurants, that represent the American food culture in their own special way.
Virgil's

Going for dinner at Virgil's Southern-style barbecue restaurant? Order 'train wreck fries' as a starter for the table. I know it doesn't sound too appetising, but trust me. It's actually a pile of fries, bacon, cheese, and other good stuff. I then recommend choosing the pulled pork, truly delicious. Other typical specialities on the menu include mac and cheese and hushpuppies, for example. They even make their own sauces, you'll always have about four of them on your table. The interior is spacious and tidy, it's a great place to visit with (small) children.

Eric's Tip:

If you're in the mood for mac and cheese, go to STK. It's a steakhouse indeed, but their

mac & cheese

is very good.

Cowgirl

A bit like Virgil's, only the quality of food is a little lower, and the atmosphere, is much better. You'll find Cowgirl in a quaint street of the attractive neighbourhood: Greenwich Village. They've selected the decor with the utmost care: it's like you just walked into a Spaghetti Western, only, they don't serve spaghetti. They do serve other pasta dishes though, and all with a 'Western twist'. Mozzarella sticks with bacon and fresh jalapeños and a cowboy steak accompanied by green chilies and sun-dried tomatoes, to name a few. Make sure you save some space for 'New York's best dessert': baked potato ice cream. It's like a baked potato, only the taste is quite different. Let them surprise you! You can visit this place for lunch and dinner. It's all very low-key, you can easily get away with wearing a baseball cap, not a problem at all.

Bubby's

Bubby's is a typical American restaurant. That started already with its opening day: Thanksgiving Day 1990. The restaurant, which is now decades old, is known for its American cuisine; simple and fresh comfort food. You can go there for brunch with pancakes, burgers, and sandwiches on the menu, or a dinner consisting of BBQ ribs or fried chicken for example. Bubby's has two locations, in Meatpacking District and TriBeCa.

Freemans Restaurant

Freemans Restaurant is a typical New York restaurant. It's located at the end of an alley, making it mysterious and not so easy to find on your own. There is a lot of atmosphere here and it feels like a small-scale tavern. On the menu, you can find options like steak, mashed potatoes, and a burger. I had the latter and thought it was really tasty.

IHOP

IHOP makes it into this top 5 as a wildcard. Why? This is a 'love it or hate it' kind of chain. It's not what most would describe as 'atmospheric', but it is a prime example of how hundreds of millions of Americans spend their mornings. In this predominantly breakfast restaurant, there is a wide variety of different pancakes and syrups. They also serve a fine brunch (after which they'll have to roll you out of the restaurant) and a 'lumberjack breakfast' – the Canadian version of our English breakfast. Oh, they do love strange combinations. I remember eating a steak-filled omelette for breakfast as if it was a kind of taco. Prices are really low. Again: don't expect any atmosphere whatsoever, do expect an all-American experience though – including 'unlimited coffee' and 'unlimited pancakes' once in a while. Be prepared!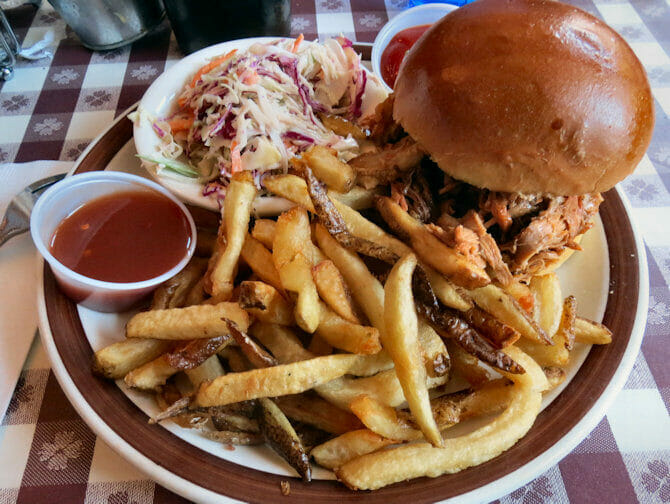 Was this article helpful? Recommend it by giving me a rating: