West Village New York is a neighbourhood in Manhattan. It's a residential area but is also full of nice shops and restaurants. In addition to lots of celebrities! To give you an idea: the neighbourhood lies to the south of Chelsea, north of Hudson Square and South Village, east of the Hudson River and west of Greenwich Village.
West Village and Little Bohemia
West Village actually is the western part of Greenwich Village. It was founded in 1916 and was quickly nicknamed "Little Bohemia", due to the bohemian lifestyle of its residents. You'll see artists' houses, adding to the neighbourhood's charm. Another unique neighbourhood 'quirk' is the fact that its streets don't follow New York's grid system. This is not only confusing for you, as a tourist but can be quite a challenge, even for New Yorkers. You really do need a map here. (Or not, because West Village is actually the perfect area to wander around aimlessly. You will come across great places doing so!). Visit, for example, the famous cupcake shop: Magnolia Bakery and High Line Park that connects West Village to Chelsea, Hell's Kitchen and Hudson Yards. In northern West Village, you'll find the popular Meatpacking District.
Jefferson Market Library
Originally, the Jefferson Market Library was a courthouse, with a jail and a market. From 1945, the building was no longer used as a courthouse and it was in danger of being torn down. This was until 1961 when the New York Public Library agreed to renovate the building into a library. Nowadays you can walk around the old police court, which is now the Children's Reading Room, or see the Civil Court where you now can find the Adult Reading Room.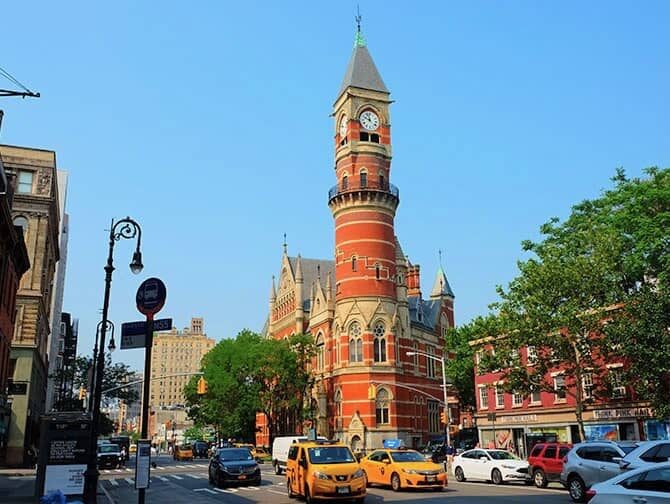 A Dynamic and European Neighbourhood
Broad, quiet, tree-lined streets (like Commerce Street), go hand in hand with cute cobblestone streets. This specific streetscape gives West Village its 'European' appearance. Looking beyond this cutesy impression, you'll find a huge dynamic district, trendsetting and stylish. It's busy, without the bustle. Locals enjoy drinks in fancy restaurants, and there's a typical village-like atmosphere. In addition to the celebrities who live here, loads of bachelors populate West Village as well. People living in the area are young, highly educated creatives: you won't find many children or elderly people.
Restaurants in West Village
If you're in the 'wild' west, it's great to eat accordingly. Cowgirl 519 Hudson Street, serves good Tex-Mex/South American food. The kitschy appearance adds to the experience and the 'baked potato' dessert is worth a try! If you want to keep the 'cowboy vibe' White Horse Tavern is also worth a visit. In this restaurant time has stood still, you almost expect some visitors to start a fight over a stolen horse. Which of course doesn't happen, but there is still plenty to see, from the characteristic visitors at the bar to the many images and artefacts on the walls. Another nice place to grab a bite is the Bus Stop Cafe; a very local place without any tourists, that serves simple but good food. If you'd like to sample local bites from several family businesses in the neighbourhood, you can do the West Village Food Tour.
Hotels in West Village
There are very few hotels in West Village, but if you'd like to stay in this area you can book a room at The Jane. Another option is the Victorian-style inn Incentra Village. This guesthouse offers rooms, all with a working fireplace, in a great location in the neighbourhood. Staying here makes you feel like you went back to the 19th century, a very special experience.
Was this article helpful? Recommend it by giving me a rating: