Christmas Season in New York 2021
Christmas season in New York is a really special time, the atmosphere is indescribable; you'll be amazed by the countless lights and magical decorations. For Americans, Christmas is an important holiday and this is reflected in the enthusiasm with which they decorate their homes. Every year a huge Christmas tree is illuminated at the Rockefeller Center and the windows of the shops on Fifth Avenue are beautifully decorated! If you are in New York during the Christmas season, there are several activities that you can do to soak up this atmosphere.
The Christmas Lights Tour of Dyker Heights
The Christmas lights decorating American houses are breathtaking. To see exuberantly decorated houses (you certainly know them from series and movies) you should not stay in Manhattan but go to Dyker Heights in Brooklyn. This affluent area has even been chosen as the "best-decorated neighbourhood of America". Take part in the 3.5-hour Brooklyn Christmas Lights Tour of Dyker Heights and explore the beautifully lit and decorated homes.
The tour begins in Midtown where your bus with guide heads to Brooklyn. Once in Dyker Heights, you won't believe what you're seeing! Some of the extravagant creations cost more than $10,000. To keep your Christmas spirit high, Christmas videos and Christmas carols will be played in the bus.
Book your Christmas Lights Tour of Dyker Heights here
Eric's Tip: If you are in New York during the Christmas season, this tour is a must. You get to see the houses as you know them from American series. During the tour, there is plenty of time to take pictures and you'll be amazed by the decorations. This tour will certainly get you in the Christmas spirit. Note that it is very popular, so it's best to book in advance.
Rockefeller Center VIP package: Skating Rink and Top of the Rock
In addition to a beautiful Christmas tree, Rockefeller Center is also famous for its skating rink. Skating in New York at Rockefeller Center is a great experience. The queues at the Rockefeller rink can be quite long. Do you want to skate here during the Christmas season? Then you can opt for a VIP package.
You will have access to the chalet, next to the ice rink where you can relax after and during skating and warm up with hot chocolate, coffee, and biscuits. All this is included in the VIP package. And there's more! This package also offers free access to the Top of the Rock. From the observation deck on the 70th floor, you can enjoy the view of New York City.
Book your tickets for the evening VIP package here
Book your tickets for the morning VIP package here
Eric's Tip: This package is great for the whole family. You get to skate during a very wanted time slot and you can make use of the VIP-chalet. With this package, you can enjoy skating on one of the most popular rinks in New York without the hassle and lines.
Festive Christmas cruise
Get well and truly in to the Christmas spirit during this festive Christmas cruise in New York. Aboard this 1920s, vintage-style yacht enjoy hot chocolate, cookies and Christmas songs performed by a live band as you pass the Manhattan skyline.
Book the Christmas cruise in New York here
Rockefeller Center Christmas Tree
The famous Rockefeller Center Christmas Tree is an attraction in its own right. The tree needs to be a minimum of 20 metres tall and around 7,5 metres wide but it's usually much taller (between 23 and 27 metres). The Rockefeller Center Christmas Tree is decorated with 8 kilometres of fairy lights. In 2020, the tree lighting ceremony will take place on December 2nd. The lights will be turned off in January 2021. The tree is illuminated daily from 06:00 until 00:00 and over Christmas is illuminated for 24 hours. On New Year's Eve, the lights are turned off at 21:00.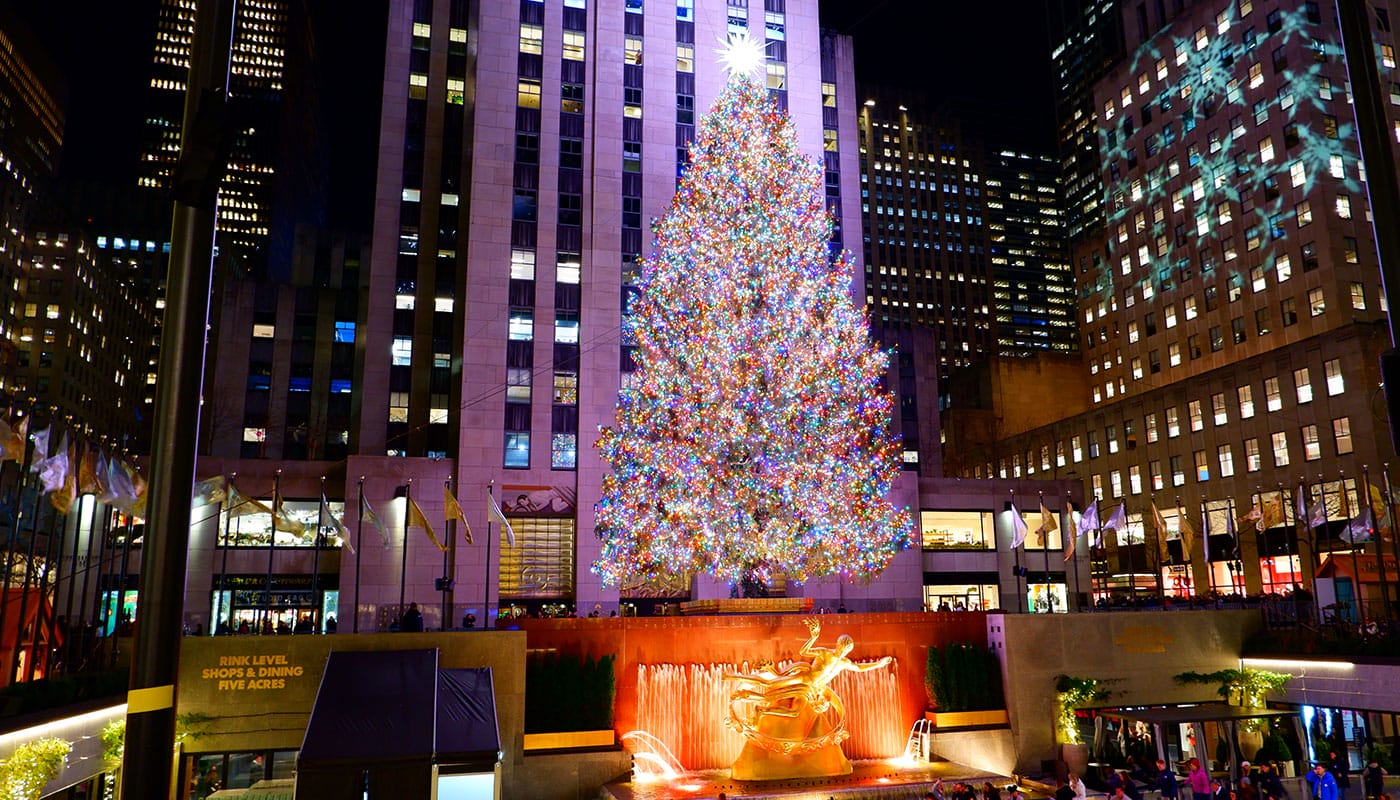 New York Holiday Lights Tour
Do you want to see the highlights of Christmas lights in New York but don't want to do it on your own? Then take this bus tour. The bus drives through the city, past the famous Rockefeller Christmas tree and the great displays of the shops on Fifth Avenue. There will be eight stops where you can get off the bus and take a short walking tour. The Rockefeller Christmas tree is only lit in late November or early December. To avoid disappointment, I advise you to take the tour only after the tree has been lit.
Book your tickets for the Holiday Lights Tour here
Christmas Markets
In New York, there are a number of Christmas markets you can visit. Two of the best are Bryant Park and Union Square. The Bryant Park Christmas Market starts on 30th of October 2020 and runs until 3rd of January 2021. This is a large market and because you can also go ice skating and sit in the cafe, it's the absolute best Christmas experience. You can buy Christmas decorations and ornaments. These Christmas markets aren't cheap but it's all about the experience, after all. I once bought a New York taxi tree ornament, as well as a hotdog stand one!
Decorated Shop Windows
If there is one thing during Christmas in New York that will surely put you in the festive mood, it's the beautifully decorated streets and shop windows. Big department stores really dedicate the whole year to preparing their Christmas window displays, each telling its own story. The shop windows are somewhat of a gift to the public and are not prominently sales-driven. It's popular for both locals and tourists to wander past the stores during this period, especially on Fifth Avenue. The department stores with the best shop windows are: Bloomingdale's, Bergdorf Goodman, Saks Fifth Avenue and Tiffany's. Macy's should, of course not be missed.
When will the Christmas decorations go up?
The Christmas decorations in shops are usually revealed at the end of November, beginning of December: typically after Thanksgiving. This is also the case for the Rockefeller Center Christmas Tree. After New Year, most of the shops will remove their decorations.
Macy's during Christmas
The department store Macy's has dedicated a whole floor to a magical Christmas village called Macy's Santaland. Everything is beautifully decorated. Even Santa Claus is present and you (or your children) can snap a photograph (for a fee). Bear in mind that the queue for taking a photo with Santa can be very long.
Is Christmas a good time to visit New York?
Certainly! The atmosphere in New York in December is great. The whole city is elaborately decorated and it is usually not very cold yet. The holidays are therefore a very nice time for a New York trip.
What is there to do in New York at Christmas?
There are several Christmas activities in New York during the holiday season. The city is full of beautiful shop windows and Christmas trees. Visit one of the cozy Christmas markets, admire the decorated houses on a
Dyker Heights tour
and enjoy the Rockettes at the
Radio City Christmas Spectacular
.
Can I attend the Rockefeller Tree Lighting?
Yes, you can go here, but the event is attended by millions of spectators every year. If you want to be assured of a good spot, make sure you buy tickets for a Tree Lighting viewing party or arrive hours in advance.
Was this article helpful? Recommend it by giving me a rating: