Rockefeller Center in New York
Rockefeller Center in New York is a vibrant hub where business and entertainment come together across a complex consisting of 19 buildings. The Top of the Rock, ice skating rink, Radio City Music Hall and NBC Studios; it's all part of Rockefeller Center!
Rockefeller Center in New York
John D. Rockefeller Jr. had an idea for a city within a city. He started the construction of several buildings between 48th and 51st Street in Midtown Manhattan in 1931. He called this the Rockefeller Center, but it is also known as Rockefeller Plaza. Today, the complex has 19 buildings that include several New York landmarks, such as the Rainbow Room, from which you can overlook the entire city. The venue is only open for private events.
Top of the Rock
At 30 Rockefeller Plaza, you can find Top of the Rock, an observation deck on the 70th floor with a view of the Empire State Building, Central Park and all the surrounding buildings. With Top of the Rock tickets, you can take the lift straight up and admire the view.
Radio City Music Hall
Events are organised throughout the year at the Radio City Music Hall, a theatre and concert venue. It is the largest indoor theatre hall in the world and can seat 5,900 people. Because of the way it was built, the quality of sound is very good no matter where you sit. Many famous artists perform at Radio City.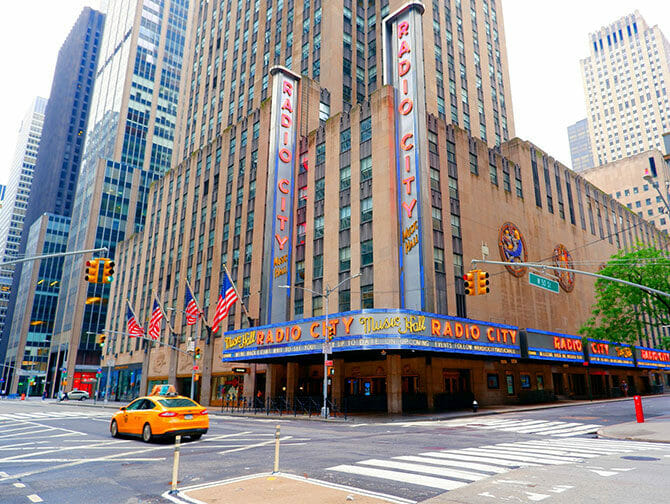 Rockefeller Plaza
Rockefeller Plaza is the heart of Rockefeller Center and can be found between 49th and 50th Street. It is also known as the Channel Gardens. During the winter months, an ice skating rink is located here, and in summer you can roller-skate. Many businessmen gather here during their break to have lunch outdoors.
NBC Studios
Since the 1990s, several programmes and shows for NBC have been recorded at Rockefeller Center, including the Tonight Show with Jimmy Fallon and Saturday Night Live, for which you need to arrange tickets in advance. Without having to reserve a ticket, you can see the filming of the Today show in the mornings at Rockefeller Plaza.
Christmas at Rockefeller Center
Rockefeller Center is beautifully decorated during the Christmas period, making it a magical place to visit.
Rockefeller Christmas Tree
The Rockefeller Christmas tree is an icon of the Christmas season in New York! Every year, the Rockefeller Center Christmas Tree Lighting Ceremony takes place, where 50,000 LED lights are turned on in a stunning display.
Ice Skating
Under the Christmas tree, you will find the skating rink. For a magical experience, put on your skates and enter the iconic ice. Ice skating at Rockefeller Center is possible from November to March.
Christmas Spectacular
Radio City Music Hall hosts the annual, iconic Christmas show of New York: Radio City Christmas Spectacular. Watch the Rockettes, a famous dance troupe, do an amazing routine all in perfect sync! It's a show you'll never forget!
Things to do in Rockefeller Center
Because Rockefeller Center is such a large complex, there is a lot to do. As I mentioned earlier, you can visit the observation deck, Top of the Rock, but there is much more to it than that.
Roller Skating
You can ice skate at Rockefeller Center in winter, but during the summer months, you'll be lacing up roller skates and going for a spin! With the music and lights, you will feel like you are in a disco.
Buy tickets for Flippers Roller Boogie Palace here
Shops at Rockefeller Center
A number of shops can be found around Rockefeller Center, including toy stores such as FAO Schwarz and the LEGO Store, The Shop at NBC Studios for merchandise from various NBC productions, and there are even more shops inside under the buildings themselves. There are also many eateries here where you can grab something when you visit Rockefeller Center, and many workers get their lunch there.
Eric's Tip: "Underneath the buildings, you can walk to many shops and eateries, as well as the metro. It's like a small underground city! I got to know all the corridors well because my son's daycare was here. It is ideal when it rains outside, as you can walk several blocks and stay dry."
Tours in Rockefeller Center
There are several tours you can take to learn more about Rockefeller Center and its buildings. If you are interested in the history and architecture of the complex, you can do the Rockefeller Center Tour. On the Stage Door Tour, you will get a behind-the-scenes look at Radio City Music Hall, see the famous hall, meet a Rockette and get to places you would not otherwise be able to visit.
If you love American TV and are curious to see how it all works, you can get a behind-the-scenes look at the studios and shows on the NBC Studio Tour.
Hotels around Rockefeller Center
There are a number of hotels around Rockefeller Center where you can stay. From The Jewel Hotel, you have a view of Rockefeller Plaza so you can enjoy the Christmas decorations during the Holiday season. Other nearby options include DoubleTree by Hilton New York Midtown Fifth Ave and New York Hilton Midtown. Or stay at the Lotte New York Palace.
Can you go to the top of Rockefeller Center?
Yes. The observation deck at Rockefeller Center is called Top of the Rock. Read more here.
Was this article helpful? Recommend it by giving me a rating: