Visiting New York on a budget can be daunting, it's far from a cheap destination. However, there are a few things you can do to save and keep costs low during your stay. From discount passes to eating out, here are a few recommendations for helping the dollars to stretch a little further on your New York break.
Discount Passes
If you are planning on spending some or all of your time in New York exploring and visiting attractions, it is absolutely worth getting a discount pass in advance. You can save money on the entrance to attractions and even on tours and activities like bike rental. There are a few passes to choose from and which one you go for should depend on how long you are in New York for, how much you want to see and do and how flexible you want to be with your time.
See all the options for discount passes in New York here
Dine in New York on a Budget
In New York City you can really go all out. When it comes to dining, the city is your oyster! However, dining like a king can cost a lot, not very convenient when you are in New York on a budget. Luckily, there are some great, cheap ways to eat in the city that will have you saving money and licking your fingers.
Pizza
Of course, let's start with my favourite, pizza. There are so many great places to eat a slice. It's quick when you are busy sightseeing and it's cheap too. At NY Pizza Suprema, next to Penn Station, you can get a tasty slice from $3 a pop. Or try Joe's Pizza on Carmine Street where slices start at $2.75!
New York Diner
A very traditional way to eat is to head to a local New York diner, where food is cheap and there's plenty of it. Westway Diner on 9th Avenue is open 24/7. It's a typical diner: the food is simple and served very quickly. If you are heading to a Broadway show, try Theater Row Diner on West 42nd Street. The menu specialises in panini's, wraps, seafood and traditional home cooking and you can get the main meal for around $17. To get the real feel of a traditional New York diner, head to Hector's Cafe & Diner. One of the last real 'old school' diners in New York. It's an oasis in the hip and touristic Meatpacking District.
Street Food
When in New York on a budget, do as the New Yorkers do and stop at one of the many street-side food carts for a bite to eat. You can find much more than a hotdog in this diverse city: Mexican tacos, Korean barbecue chicken and Belgian waffles can all be found in this culinary melting pot, and at great prices too.
See a Sports Game
Seeing the Knicks or the Rangers at Madison Square Garden tends to be costly, especially if you are in a group. Luckily there are other options.
Hockey or Basketball in Brooklyn
Barclay's Center in Brooklyn is home to the Islanders hockey team and the Brooklyn Nets, basketball team. Tickets for both are very reasonable, starting at around $25. The atmosphere at a game is fantastic, even if you don't like sports! You can spend the whole evening at the stadium, which is really easy to get to by subway as the subway station is right outside Barclays Center.
Baseball or Football at Yankee Stadium
My favourite team the New York Yankees play from April to October, very regularly at Yankee Stadium. Tickets, especially when booked early, cost from as little as $5. Are you not much of a sports fan, or maybe just not this sport? No problem, the atmosphere alone will be worth a trip to the stadium.
New York City FC also calls Yankee Stadium home and a football match there is definitely worth experiencing. Just to see the stadium itself is an experience. Tickets start at around $20 for an afternoon of fun and chanting with a New York touch.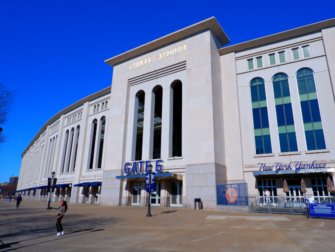 Getting Around
Manhattan is a pretty huge place. If you need to get from A to B sometimes walking is not an option and when in New York on a budget, taking taxis can soon add up, especially in New York traffic.
Subway
If you want a cheap, quick and easy way to get around the city, the subway is the best option. Use the subway overlay in my free app, Eric's New York, to easily navigate your way around. You can even purchase your MetroCards online before you travel.
Bike Rental
Another great way to explore and see the city is to rent a bike. The longer your rental, the cheaper the hourly rate. Bike rental options are also included in the New York Pass and the New York Explorer Pass. Rent a bike and explore Central Park, Brooklyn and the Brooklyn Bridge or, if you are feeling brave, the entire city! A great, budget-friendly activity for the entire family.
Use my Free App
To help you navigate New York I have created Eric's New York app for Android and iPhone. You can download it for free and use it offline so you can have it to hand to help you find your way around. Whether it be getting from A to B on the subway, ordering tickets or looking for WiFi hotspot; Eric's New York will definitely help you to save some money as well as time whilst in New York.
Free things to do in New York
In a city where spending a lot is so easy, there are also options to spend nothing at all. I have compiled this list of free things to do in New York which includes a variety of activities. Including information on the Staten Island Ferry, the Roosevelt Island Tram, Grand Central Terminal, visiting one of the many parks or markets, all free of charge.