Abercrombie & Fitch Store in New York
Abercrombie and Fitch (or A&F) are one of the brands with stores in New York that is very popular around the world. In Manhattan, there are two stores, including one flagship store. However, it is important to know when to go. Abercrombie & Fitch store in New York, where the music is playing so loud that you will not be able to hear the sound of your own voice and you will be greeted at the door by bikini-clad women or bare-chested men.
Canadian Brand in New York
This Canadian brand is extremely popular with the younger crowd. Abercrombie and Fitch also have a second clothing line called Hollister. Right by the flagship store for Abercrombie and Fitch on Fifth Avenue, you can find a Hollister store so it's a great spot to go shopping in New York. The other location is at the corner of Houston Street and Broadway.
The two Abercrombie and Fitch stores are:
Midtown: 720 Fifth Avenue (This is the flagship store)
Downtown: 199 Water Street
Eric's Tip:
The Abercrombie and Fitch store on 
Fifth Avenue
 is the shop where everyone goes. It is not unusual to wait in line for 30 to 45 minutes just to enter the store (see photos below)! It is especially busy on Saturdays and Sundays. Make sure to go either early in the day or later. Or go to the second Abercrombie and Fitch store, because there is never a line there. The Abercrombie and Fitch stores are hard to recognise from the outside, because of their low-key exterior. Good luck!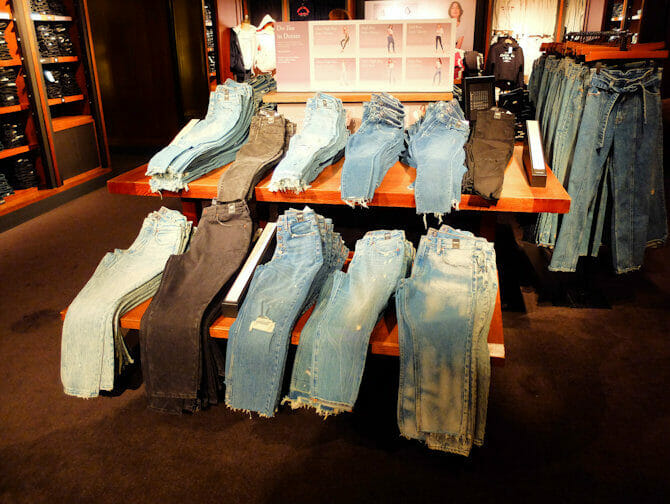 Was this article helpful? Recommend it by giving me a rating: