Snow in New York mainly falls in January, February, and March. New York in the snow is a unique experience that you will not forget. During a snowfall in New York, I like to go out and about. The city is very beautiful under a layer of snow and the atmosphere is nice. Central Park, cosy Greenwich Village, and Times Square in the snow are especially worth a visit. With a winter coat, high shoes or boots, and many layers of clothing you will have a great time in New York in winter.
New York in the snow
The first snowfall in New York usually occurs in November or December. These are small showers that look more like wet snow. A white Christmas in NYC isn't likely to happen. Thick snow only falls in January, February, and early March. Sometimes a snowstorm occurs in New York, which is called a blizzard. Within a few hours, half a meter of snow or more can easily fall in the city. Often, the weather is nice after the snowfall; a clear blue sky with a bright sun. However, the days after the snowfall can be extra cold due to a cutting wind, so the perceived temperature can drop.
Snow removal in New York
New Yorkers are required to sweep their sidewalks and grit the streets within four hours after the snowfall, which they often do with salt. If the snow falls at night, a doorman often clears the sidewalk and all snow has to be gone before 11:00 AM. That is why there are large piles of snow on the sides of the road. The streets of New York are very accessible. The snow mountains, sometimes metres high, naturally melt away, creating puddles. It is recommended to wear boots or good closed shoes. This way, when you cross a street you won't get cold and wet feet quickly.
Eric's Tip: Do not forget to bring a scarf, hat, and gloves on your trip to New York during the winter. The cold wind can feel cutting. It is also very convenient to wear layers of clothes. Inside, in stores, for example, it can be very hot.
Travelling with snow in New York
During the snow in New York, the subways continue to run, making them the best mode of transport. Inside the underground stations, it is of course dry and warm. You can get anywhere with the New York subway. So when you go out to discover the wintry city, you can always come back to your hotel.
Flying during a blizzard in New York
A blizzard can affect your trip to New York, but it doesn't happen often. The weather forecasts are closely monitored, which means that measures can be taken in advance of a severe snowstorm. If flights to and from New York are cancelled, this will be announced in advance. It is useful to keep a close eye on the information yourself and to contact the airline if necessary. In the worst-case scenario, JFK Airport or Newark Airport may close for a few hours, but you'll still be on your way home or on your way to NYC the next day. Everything is well organised when it snows in New York.
Activities during snow in New York
When snow falls in New York, there are always plenty of things to do. You may have to adjust your schedule slightly, but generally, all attractions are open. Below you will find my top snow activities in New York.
Central Park
Central Park is one of the most beautiful places in New York, when it snows. The park is not gritted, so it remains magical. You can also skate on one of the ice rinks or visit Central Park Zoo. It is a true winter wonderland.
Museums
A visit to one of New York's museums is ideal during a winter day in the city. Inside it is warm and you can spend a few hours there. For example, visit The Met or the Guggenheim Museum. Both museums are located close to Central Park, making it easy to combine with a walk through the white park.
Hop on Hop off bus
A tour with a Hop on Hop off bus in New York does not seem very comfortable when it snows, but it is very convenient. The streets of New York are clean shortly after a snowfall, making the roads passable. When you sit inside the bus, or dressed warmly upstairs, you can easily see many of New York's sights.
Indoor activities
When you're in New York, it's fun to see a Broadway musical or attend a sports game. These are also good activities on a winter day. All Broadway shows and sports events take place when it snows in New York. During the snowfall months, the ice hockey and basketball seasons are on. These always take place inside, so you won't be bothered by the snow.
Shopping during snow
During a snowstorm, you can go shopping. Especially in the large stores, such as Macy's and Bloomingdale's, you can easily spend a few hours there. You can also go to a shopping center such as Hudson Yards, Westfield World Trade Center or the American Dream Mall. That way you don't have to go out in the cold every time. Shops may close during a major blizzard, so the staff does not have to come or can go home without difficulty.
What not to do during snow in New York
When it snows in New York, there are many activities you can do, as well as some things to avoid:
Don't get on a bike
Discovering New York by bike is a fun activity. It's just not convenient to do when it snows or the days after the snow. The snow that is shovelled off the sidewalk quickly ends up on the bike paths, and the snow from the road is also pushed in the same direction. This makes it difficult to cycle and can sometimes even be dangerous. Also, there are no mudguards on the rental bikes in New York, so your clothes can get filthy.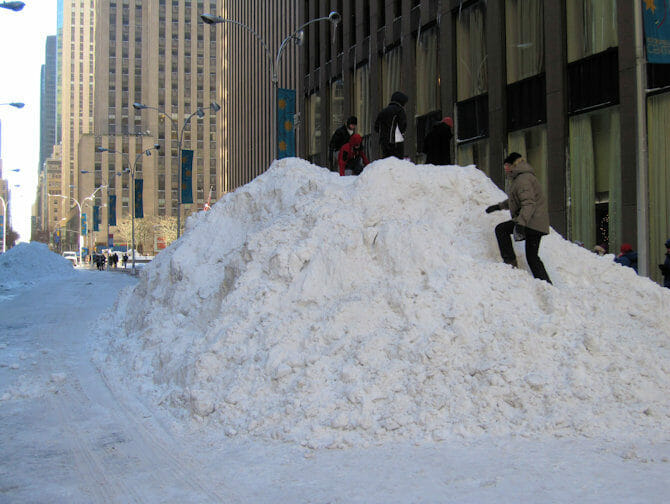 Don't wear sneakers
During your trip to New York, comfortable shoes are essential. When it has snowed, waterproof shoes are very useful. The snow melts, forming large and cold puddles on the sidewalk. Sometimes, you cannot avoid having to go through one of them.
Don't take a taxi
A taxi is normally a great way to get from A to B. However, during a blizzard, the roads can be difficult to access, making it busy and taking longer for a short distance. For that reason, it is more convenient to get to your destination by metro.
Don't fly in a snowstorm
If you know a blizzard is coming, try rebooking your flight for the next day. This gives you an extra day in New York and prevents you from getting stuck at JFK Airport or Newark Airport.
Don't just look for a restaurant
When it has snowed heavily in New York, not all restaurants may be open. It is therefore wise to call a restaurant in advance to see if they are open. That way you don't stand in front of a closed door.
Don't go out of town
A day trip from New York is a great way to discover more of New York and the surrounding states. It's just not convenient to do this when there's snow in New York. The roads are generally accessible, but there is a possibility that you will get stuck. For the same reason, I do not recommend renting a car when snow is forecast. That's why it's best to stay in Manhattan.
Winter sports in New York
It is possible to go skiing and snowboarding in New York during your trip. During a snowstorm, this is less suitable, but on another day in the winter months, you can go out to the mountains. The Hunter Mountain and Windham Mountain offer beautiful slopes for all ski levels.
When does it snow in New York?
Most of the snow in New York falls in January and February.
What can I do during snowfall in New York?
When it is snowing in New York, there are plenty of activities you can do. Read more here.
What is the coldest month in New York?
January is usually the coldest month in NYC. The chances of experiencing snow in New York in January or February are big.
Can I ski or snowboard in New York?
During your trip to New York, it's possible to go skiing or snowboarding for a day. Read more here.
Was this article helpful? Recommend it by giving me a rating: